---
Kent Tour
---
This tour is a linear tour and can also be carried out in the opposite order. It encompasses five hillfigures, The crosses of Lenham and Shoreham, the Wye Crown, Bleriot Memorial and the Battle of Britain Memorial.
Tour time (allow 3-4 hours)
Shoreham Cross NGR TQ 5148 6198
Lenham Cross NGR TQ 903 529
Wye Crown NGR TR 0713 4660
Battle of Britain Memorial NGR TR 245 381
Bleriot Memorial NGR TR 245 381

MAP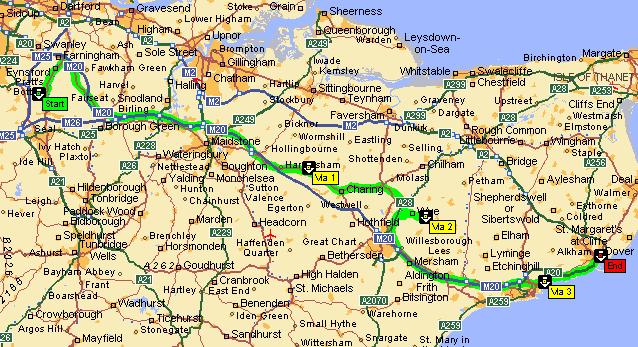 Map reproduced by grateful permission of Microsoft
Directions
The links will provide more detailed local location directions and maps.
Enter Shoreham from the A225, A225, follow the A20 to the M20 at J2. Follow the M20 south to J8 and come off onto the A20 south, follow this into Lenham. The Cross can be seen from the A20. Follow the A20 to Charing, take the the A252. From here you can take the A251 east across minor roads to Wye, or follow the A252 to where it meets the A28 and follow the A28 to Wye, the crown is in the east part of Wye. Follow the A28 back to the M20 at J10. Follow it through Folkestone, onto the A20 where the M20 ends the Battle of Britain Memorial is signposted from the A20. From the Memorial follow the B2011 (right turn from car park) back onto the A20 and follow this into Dover. The Bleriot memorial is by the castle.
---