---
General Information
National Grid Ref TQ 5148 6198
A Christian style cross on the outskirts of Shoreham, cut as a memorial to the casualties of the first world war. The cross is edged with concrete blocks and has recently been rewhitened. It can be seen from the village but is best seen from the footpaths running near the cross from the village. There is also a memorial stone on the site. The cross is on land owned by Sevenoaks District Council, but leased to Shoreham Parish Council.
History
The cross took 16 months to construct, from the 24th May 1920 when the first sod was cut. Finished in September 1921, the Rev. David Madge and Samuel Cheesman were the two people responsible for the creation of the cross although most of the villagers helped in the actual construction. It was unveiled on empire day 1921.
There is a renovation and maintenance programme, run by the parish council. It was rechalked in 1989 and again between 18/5/97 and 23/8/97 and in good condition, constructed from compacted chalk, edged with whitewashed protruding concrete blocks 6" wide. Covered during the war with earth.
Diagram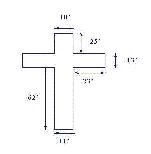 Maps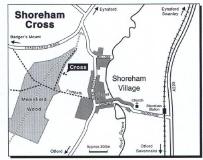 Photos
The memorial stone.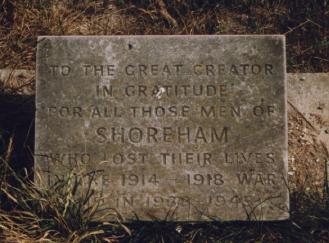 Close up of the cross piece.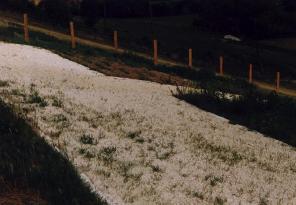 The concrete edging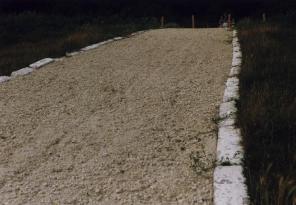 The cross from the village.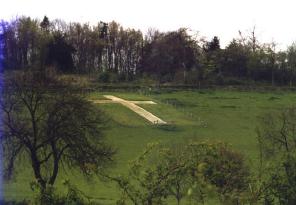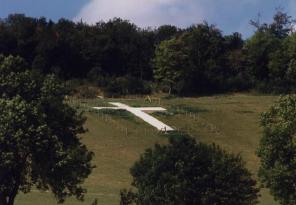 The cross from the A225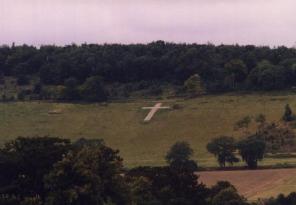 References
Ma, M.W. and Ma, J.S. (1989) Shoreham A Village in Kent. The Shoreham Society. 189-191, 208, 217-218.
A Village Booklet on Shoreham, Kent. (No more details)
Shoreham's Indelible Symbol. A special article by David Linton. (No more details)
The Times (Weekly Edition) 6/8/1920.
Bergamar, K. (1997) Discovering Hill Figures. 4th edn. Princes Risborough: Shire. 34-35.

---