Misc. and temporary Figures
Finn McCool A Natural figure?
Black Horse of Bush Howe A Natural figure?
Sultan the Pit Pony A Modern Earth Figure
Cleadon White Horse A Painted figure
Cumbria Boar A Tempoary Figure
Adverts and Mockups
---

Misc Figures Flickr Gallery

Dungeness Bird Figures
National grid Ref TR 067181
A few bird figures constructed from stines at the RSPB reserve at Dungeness.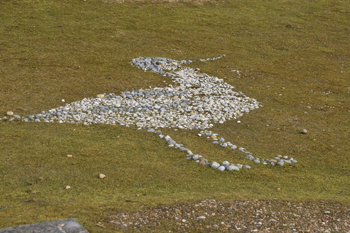 Llandudno Sign
National grid Ref SH 781831
A sign in the hillside viewed from the pier.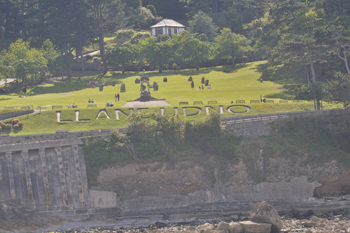 Danesfield House Hotel Sign
National grid Ref SU 815846
AT the entrance to Danesfield House Hotel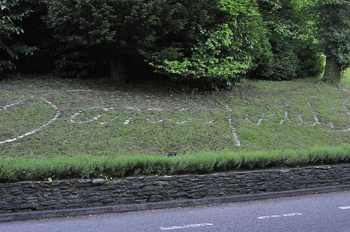 Dartbridge Inn Sign
National grid Ref SX 747665
In the car park of the Dartbridge Inn, Buckfastleigh, Devon.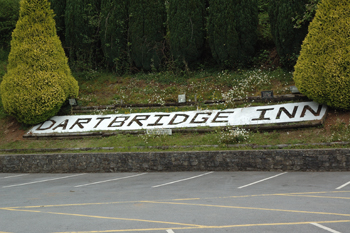 Forest of Dean Geological Map
National grid Ref SO 628097
At New Fancy View, a geological map of the Forest of Dean.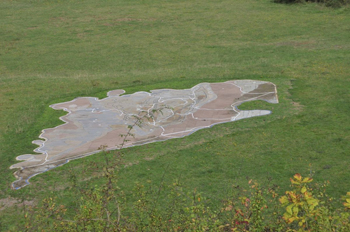 Welsh Sheep
National grid Ref
A hillfigure at two sites temporaily from the Summer of 2009. Both Sheep were made from one 50m roll of white carpet. Each sheep measured 12.5 x 12.5 m. A scale drawing was gridded up cut cut with a craft knife to shape. When finished, they were tethered to the hillsides with 200 tent pegs in each one. Originally installed at the Oriel Myrddin Gallery in Carmarthen, Wales. This was a temporary event lasting 6 weeks between May and July 2009. It received many press reviews, public responses and featured on ITV news.
It was then moved to Caerleon, Wales as part of the Sculpture Festival. It was shown for 8 weeks.
---
ER
National grid Ref
I think that this figure is in South Wales or the West Country, any info appreciated. The picture was taken in the 1950's.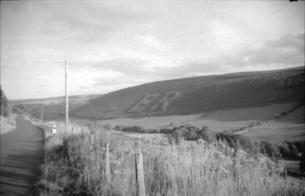 Photo courtsey of Alan and Sylvia Graham
---
ER
National grid Ref
Near Symmonds Yat, Wye Valley.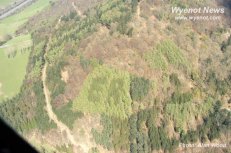 Photo courtsey Wyenot News
---
Reigate Bull
National grid Ref TQ 325531
The bull was a short lived figure constructed in June 1993. It was constructed of chalk and chalk dust and painted onto the hillside. It washed off after a short period of time. Construction took three days to complete and the figure was 210' by 160'. It was constructed by local artist Miss Kee. It was sited on the North Downs above Spring Bottom near Bletchingly.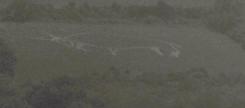 Photo used with permission from Surrey and Sussex Newspapers
---
Llechwed Slate Caverns Memorial
National Grid Ref SH700472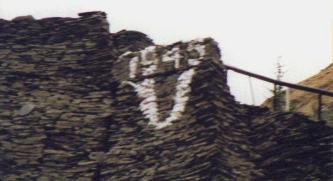 ---
FISONS Hillfigure
National Grid Ref ST4864 3427
The 'FISONS' hill figure to the south of the road at Marshalls Elm, near Glastonbury in Somerset. It remember this being very visible in the late 1950s, although I am not sure was actually cut - it may simply have been an area of fertilised grass in the nutrient poor hill side. It is still visible today in the right circumstances, although encroaching scrub had got worryingly close about three years ago.
---
A9 Hillfigure
National Grid Ref NH718377
Some Graffiti at the road junction of A9 and B851 in Scotland, it says Lairgandour.
---
Great Orme Graffiti
National Grid Ref SH766833
Some home made hillfigures in the form of Graffiti near Great Orme, Llandudno, Wales.
---
CND Badge
National Grid Ref SU01622831
A short lived figure of a CND Badge cut next to the Fovant Badges.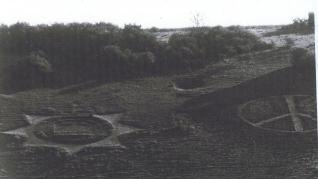 ---
Animals
Some animals constructed by Simon English, reproduced here with his permission.
Magpies Nr Stratford on Avon, 1993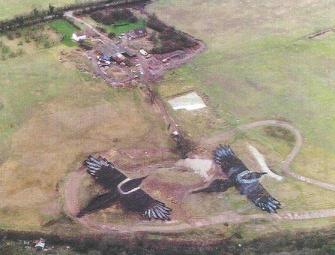 Zebra, ??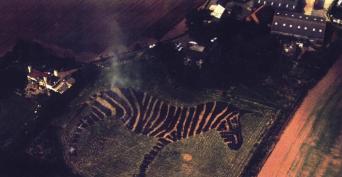 Butterfly Nr Stratford on Avon, 1993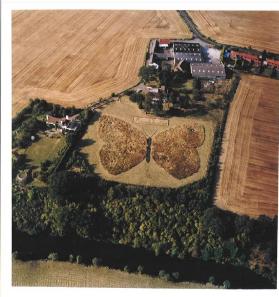 Check out Simons Current Work Here
---
Illuminated Hillfigures.
These figures constructed entirly by lights are for night viewing only and are only present for a short time, they look superb. These have been constructed by David Bryant.
---
Natural Figures
Aberystwyth Stag
National Grid Ref SN 705 798
Just off the Vale of Rheidol railway near Rheidol falls station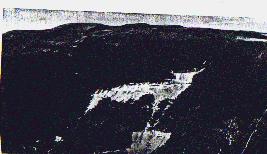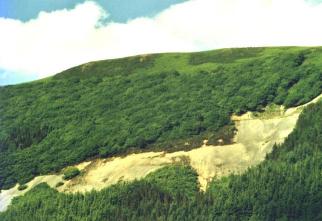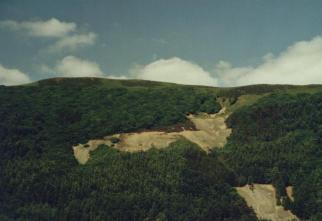 Folkestone Elephant
National Grid Ref TR167 377
Locals say it looks like the head of an elephant.
The V
National Grid Ref TQ348 130
Not strictly a hillfigure but worth a mention is the V or trees planted for Queen Victoria's Jubilee in Westmeston, Sussex in 1887.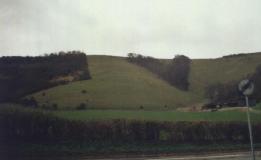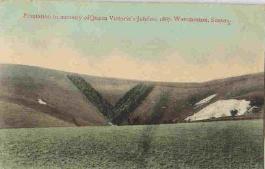 Photo reproduced with kind permission from Patty Lawler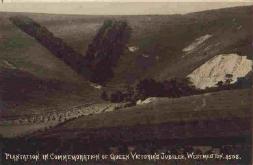 Photo reproduced with kind permission from Patty Lawler
Wombat - Mull
A wombat shape on Mull, the hillside viewed from the the east end of Loch Scridain.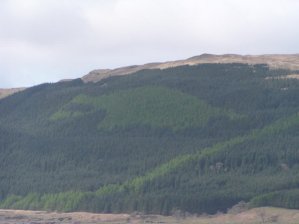 Photo reproduced with kind permission from John Poyner
Cliveden - Date
National Grid Ref SU910853
Date 1668 and Sword at Cliveden House, near Taplow, Bucks. It was said of the 2nd Duke of Buckingham that "a young lady could not resist his charms...all his trouble in wooing was, he came, saw and conquered". In light of his passionate nature, it is not a surprise to learn that the Duke ended up challenging his mistress' husband to a duel for her honour, which was fought on 21st January 1668. Lady Shrewsbury is reputed to have shown no emotion as her husband received what proved to be a fatal wound. A cross-sword emblem set into Cliveden's East Lawn commemorates this bloody encounter.
Trevithick - Maze - Lappa Valley
National Grid Ref SW838555
In the Lappa Valley railway centre.
North Shields Fish
National Grid Ref NZ361684
Banwell Cross
National Grid Ref ST 403 588
---