A modification of the Uffington White Horse to advertise Paddy Power ahead of the Cheltenham Festival.
A CGI hillfigure to advertise Plusnet Broadband.
A temporary addition to the Fovant Badges.
An advert from 1982 depicting a Dulux dog.
Does anyone know anything about the Blue Peter Hillfigures are they real or computer generated?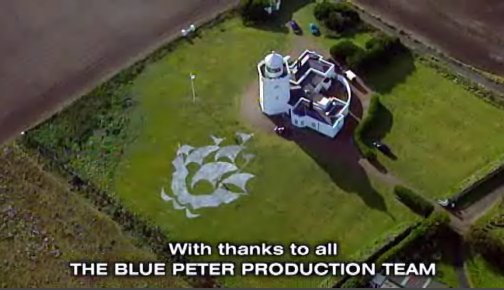 Thanks to the sender of these photo's
Hillfigures in the news again, this time a mock up using sheets on the side of the M3 near Basingstoke. It was previously used near the M62 in Bradford. Its message is to promote Lamb.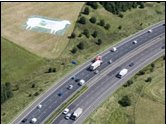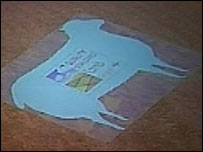 Awaiting permission from the BBC to use these pictures Long Man / Woman of Wilmington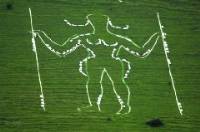 Photo with kind permission of Sussex Express Newspapers
Homer Meets the Cerne Abbas Giant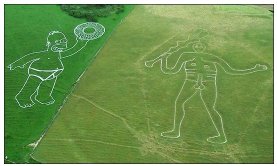 But he is not the first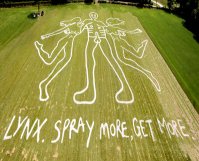 Enough trouble so he is on his bike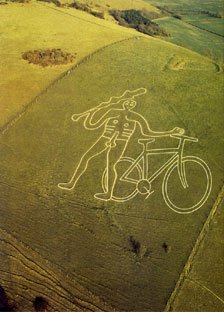 Thanks to Ian James for the above two pics
Or cover his modesty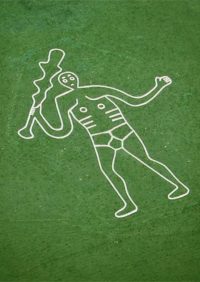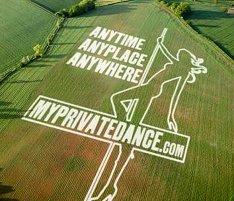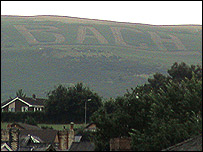 Mini Advert
A mock up of a Mini on a hillside used to advertise the mini in a brochure.

Redstone Advert
A Computer generated hillfigure used as an advert by Redstone Telecom www.redstone.co.uk and is reproduced here with their permission
The hillside picture was shot separately to the hill carving, which was set up and shot in a studio. This was then superimposed on the hillside and touched up for authenticity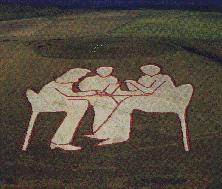 The Long Man of Billingdon
This is a spoof hill figure in the made up town of Billingdon, some garb about it can be found on http://www.giantsteps.co.uk/greeb/longman.html
The Grey Man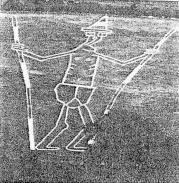 Photo reproduced with kind permission from Ross Parish
The Vitrivius Man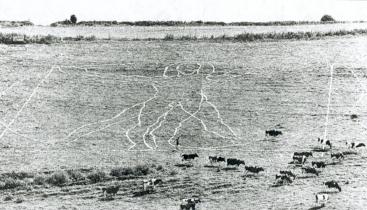 Photo reproduced with kind permission from Ross Parish
The Giantess
As a piece of experimental fieldwork by students from Bournmouth University, resulted in the creation of a temporary Giantess next to the Cerne Abbas Giant for two days 10-11 July 1997.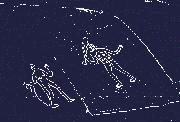 Eden Project
Mock Ups at the Eden Project Cornwall
---