Misc Railways.
Cunningham Camp Escalator
A twin seated escalator / chairlift used to access Cunningham camp holiday camp on the hill above Douglas, Isle of Man. The facade is still inplace but bricked up. The escalators are still inplace but the weather is taking its toll. Access is still possible from the top of the escalator but its is not particulary safe. It was closed in 1968
Newport Transporter Bridge
Opened in 1906 it is 645ft long, it was closed in 2007 and is due to reopen in 2010 after refurbishment work.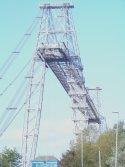 Middlesborough Transporter Bridge
Opened in 1911, the bridge is 580ft long with a clearance of 225ft. A gondola is suspended from the upper gantry and powered wheel on rail. This one is on the A178 between Middlesborough and Hartlepool.
Warrington Transporter Bridge
Opened in 1915, 200ft long crossing over the Mersey in Warrington, closed in the 1960s it is easy to find.