---
General Information
National Grid Ref SP 996 177
The Whipsnade white lion can be found just over a mile south west of Whipsnade village and 1 mile North of Dagnall on the Dunstable downs in south Bedfordshire. It is situated facing west on a gentle slope below Whipsnade wildlife park. These downs are a continuation of the range of chalk upland that also includes the Chiltern hills and the Berkshire downs. The end of the Ridgeway long distance footpath is 2 miles away to the West at Ivinghoe beacon, which offers a good view of the lion as do other hills to the west. The gentle slope makes the lion difficult to view from close quarters. It is close to the B4506 but is obscured by hedges. The B4540 offers some good but side on views from just below the conveniently placed car park. It can also be well viewed from the B489 but the best view is from several vantage points on the A4146 leaving Dagnall.
It is 483' long but this is not my measurement, as I have not been allowed access to this figure. I do not have much information as to the condition, but it is apparently in good condition.
History.
This is a creation of the 20th century, built in 1933 from a design by Mr. R.B. Brooke-Greaves to indicate the position of Whipsnade wildlife park. It is the largest of all the figures and after being cut in outline only it is now a solid figure making it a very impressive site even from some distance. Being so conspicuous it is effectively used to advertise the zoo. The lion was covered for the duration of the war with netting, turf and paint. The lion is occasionally illuminated and was so for the 50th birthday of the zoo in 1981, the lights have been recently replaced. The lion is home to a colony of cavies and wallabies which can be seen occasionally on the lion.
Maps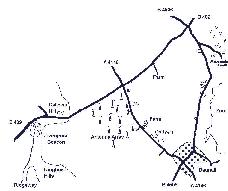 Photos
The Lion from the Air.
The Lion from local roads.
The Lion at Close Quarters Showing the Rope Lights and Wallabies"
The Lion Illuminated at Night
Construction in 1932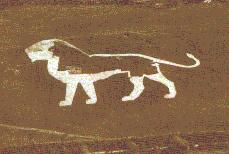 September 2006 Illumination
---