---
National Grid Ref TQ 488 059 (probable area)
An ear of corn, is depicted by this figure, but I have managed to find out very little about it, more information would be appreciated.
The figure looks like an ear of corn, very small, found high up on the north east slope of Firle Beacon, not far from the summit. It was discovered by infra red photography by David Tilt. It is hard to be certain of existence, considering the nature of the terrain on which it is found, there are links with a ley line, the evidence is sketchy and we cannot be certain if this was a figure or not.
Thanks to Melanie Gambrill for scanning the photo and to David Tilt's family for allow its reproduction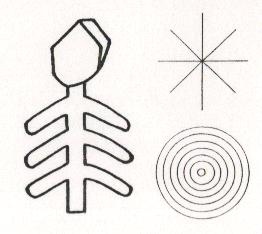 Picture by Davis Tilt reproduced with permission of Swirled News
There are also passing references to other figures in this area, although there is a legend suggesting that a giant called Gill was once cut on Firle Beacon. This is the probable site of the figure if it did exist. No evidence of a figure could be found during my visit and the investigation continues.
Legend says that Gill was and adversary of the Long Man, there is Gills Grave (a burial mound) in the area, is this just confusion with the Long Man of Wilmington not far away or was there a hill figure.
There is a mention that Firle had a military badge like those in Fovant, but again details are sketchy.
If you have any details please let me know.
Thanks to Rodney Castleden and David Tile for some of this information.
---