---
Rice County Serpent Figure
---
The Serpent Intaglio was dug by the Indians sometime around 1200-1300 A.D., and is approximately 160 ft. long and varies in width from 4 ft. to 10 ft. it is in the shape of a moving snake, or serpent. The Indians used symbols as their written language, and to them the snake meant water, protection, and new life (with the shedding of the skin).
The Serpent points head first towards a line of three will known Quiviran Village sites approximately two miles away. Dr. Mallam, an anthropologist from Luther College, speculated that the Seprent Intaglio had significant influence over these Indian villages lying below the Serpent in the fertile valley of the Little Arkansas River.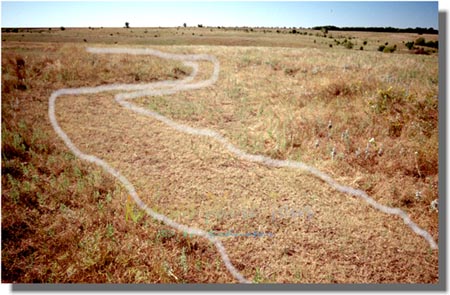 Photo reproduced with kind permission of Harland J. Schuster.
---