---
General Information
National Grid Ref TQ 792585
History
The cross discovered from 1994 aerial photographs, is the remnents of a star cut in 1951 for the Festival of Britain. It depicted the symbol of the Festival of Britain which was a four pointed star. It was lost sometime in in the 70's and 80's but was beleived to have been seen sometime and its was partially restored as a cross, possibly so its location was not lost. This would account for it reoccurance in 1994 aerial photographs but absent from 1988 ones.
The star shape can just about be seen from the 1963 aerial photographs, the accompaning 1951 lettering cannot.
From aerial photo's it was present in 1963, 1992-1994 and from witnesses it was present until approx. 2000 It was not present in 1951, or 1988 from aerial photo's.
No trace of it survives today particularly as the landowner destroyed the site in 2004 with extensive earthworks.
Photos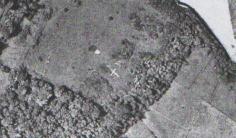 Many Thanks to Brian Jones for the photo.
---