---
General Information
National Grid Ref SP 7694 0096
This small figure can be found on the North West face of Wain hill approx. 175m on the Chiltern hills close to the Oxfordshire / Buckinghamshire border, 1 mile east of Chinnor and 11/2 miles SW of Bledlow. The best views can be had from the Henton turn off of the B4009 and the for the next 1 1/2 miles of the B4009 east of this junction. Parking is difficult along this busy route, there is however a small layby on the road to Henton. The lower half of the cross is obscured by the tree foliage from these points. To visit the cross take the Wain hill only turn off the B4009 1 mile east of Chinnor. Parking is nearly impossible, walking from Henton is an option. Cross the railway line into the village, continue up the track to a three pointed fork, take the left hand path past a few houses. The path crosses the Ridgeway / Icknield way and continues uphill in a small cutting or heavily eroded path, follow this for 175m then take a small steep overgrown path to the left into a small broad leaf woodland clearing where the slope becomes gentle, this overlooks North North Westerly into the Vale of Aylesbury. The cross is made of small pieces of loose hard chalk (circa 1") covering slightly more compacted chalk. Some of the edges are reinforced with wood. The arms of the cross are quite overgrown particularly the right hand arm and in need of some attention in the near future.
History.
This is a small simple cross 71' by 69' that seems to have grown considerably it was only 30' square in 1827. It probably cut in the late 1700's though the first irrefutable reference being from 1827 (the cross was in disrepair at that time) although a reference to a Henry Atte Crouche (Cross) of Bledelowe (Bledlow) in 1350 is plausible. Realistically it is rather to vague to give much weight to and authoritative 1700s texts give no mention of it. The origins are also unclear with the conversion from an exsisting phallic symbol being one of the most likely theories. Its proximity to the Icknield way and that of the Whiteleaf cross and Watlington white mark, surely can be no accident. It has been suggested that they might be way markers for travelers. A combination of both of these theories suggests that the figures were cut or altered by local monks. Another theory suggests a memorial for a victory by King Alfred over the Danes, but its origin remains a mystery as does it purpose.
Maps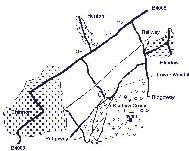 Photos
The Bledlow Cross from the B4009.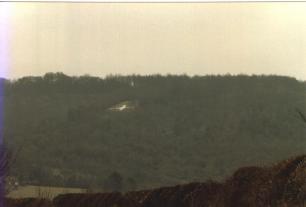 The Cross from Close up
---