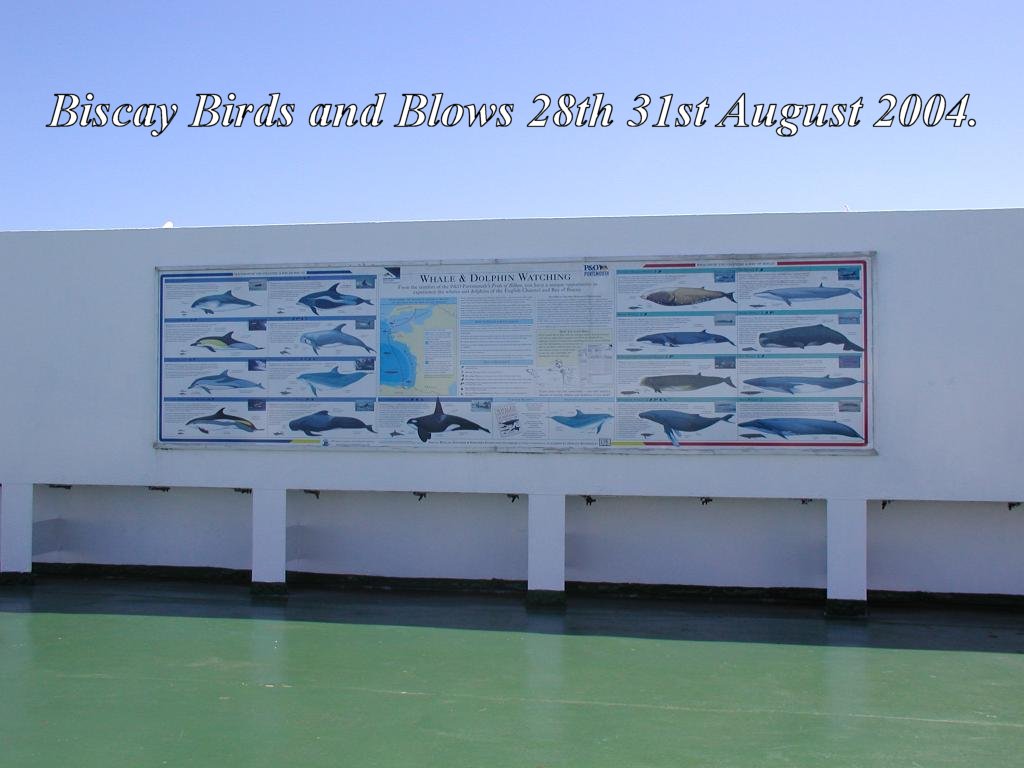 One of the Bay of Biscay mini cruises to Bilbao (well actually Santurtzi.)
Saturday 28th August
Upon arrival I checked out the boat found the best watching spots, food outlets and toilets, some food was had and early to bed.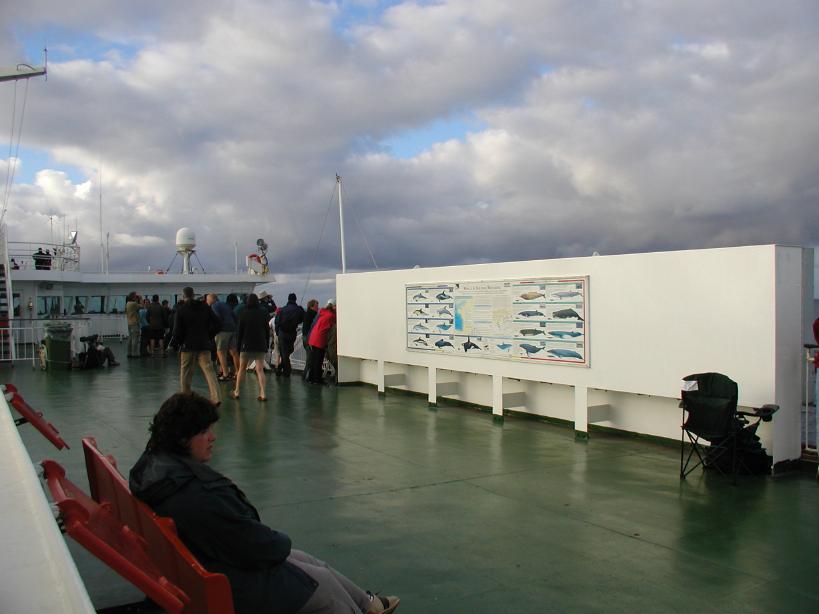 Watching on Deck
Sunday 29th August
An early rise and on deck for 7am conditions were a bit blowy and things started slow, a few gannets and an occasional dolphin to spark interest. The first bird of interest was a sooty shearwater, Things picked up and a great shearwater was picked up. I missed the next great shear that was much closer in buying lunch. The afternoon provided more dolphins mostly common although a few bottle nosed showed quite well. The first fin whale appeared very close to the boat, and was followed by many more during the afternoon and evening. I missed some pilot whales which was a bit disappointing, I also missed a dogfish sp. The first hitchhiker put in its appearance a willow warbler on the chimney of the boat. A group of storm petrels showed reasonably close in along with some tuna. Several other small groups of stormy and individuals were spotted from time to time. This was followed by another hitchhiker a wheatear that seemed to stay for the rest of the journey. A great shearwater was sat on the sea very close to the boat giving excellent views before it flew. A bonxie and a pale phase artic skua took attention away from the regular stream of fin whales and some unidentified roqual whales. One fin whale surfacing as close to the boat as possible without hitting it. A sunfish passed by glimmering in the evening sun. The last bird of the evening was a common tern sat on a pallet as it floated by. The sun set and that was it for the day.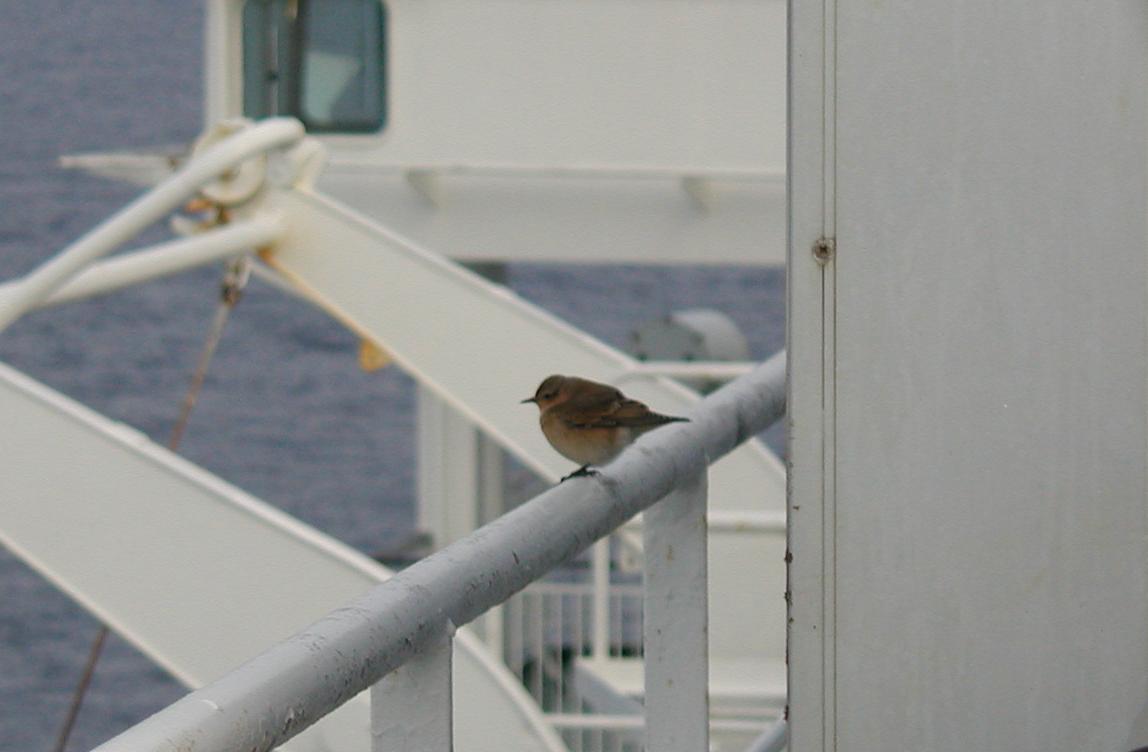 Wheatear
Monday 30th August
Another early start to leave the boat at 7am, we did not know where the hill was where everyone goes birdwatching, it is quite obvious to look at but its is a convoluted route through many small back streets. We just followed some of the many birdwatchers who knew the way. Some birdwatchers got a taxi to the top, apparently the local taxi companys know where to go, the rate of 20 euros was a bit steep. We reached the bottom of the hill, the sparrows were not house sparrows or Spanish sparrows but some mix of varying degrees but not quite classic Italian sparrows. They were plentiful. The gardens and allotments low down produced a cettiís, and fan tailed warbler. A little further up sand and house martins darted round mixed in with a few swallows. Another birder pointed out a red backed shrike. A tree pipit, nightingale and lots of serins were seen further up the hill just below the picnic area. One of the groups found a melodious warbler, and another was found a little further down the hill. Light drizzle started and we headed down via the nightjar perched on a roof found by one of the other groups on the way up.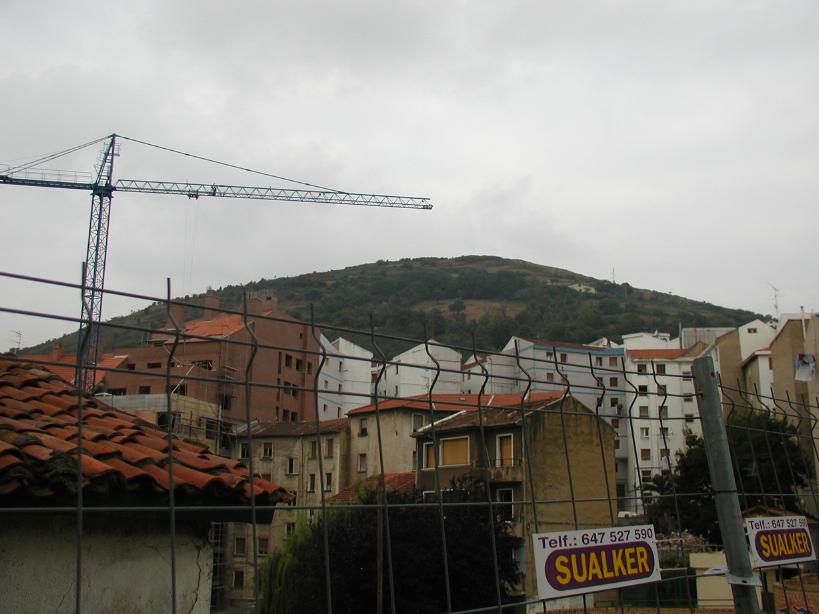 The Hill

It was still raining on board, although the gulls at the harbour did not seem bothered, the only one of note was an adult

yellow legged. The rain soon cleared as we sailed and the first cetaceans spotted were pilot whales showing quite close. A few Coryís showed well, a couple of bonxies, sandwich tern and plenty of gulls and gannets were seen. Then cuvierís beaked whales I only saw one but there were several, more coryís and then the blows, fin whales started coming thick and fast one lunge feeding close in. Then the call came and I rushed to the other side of the boat, I quickly picked up the shearwater small pale faced - a little shearwater, confirmed by the rest of the birdwatchers. There were several pods of striped dolphins some showing well, whales were being seen until dark forced us inside.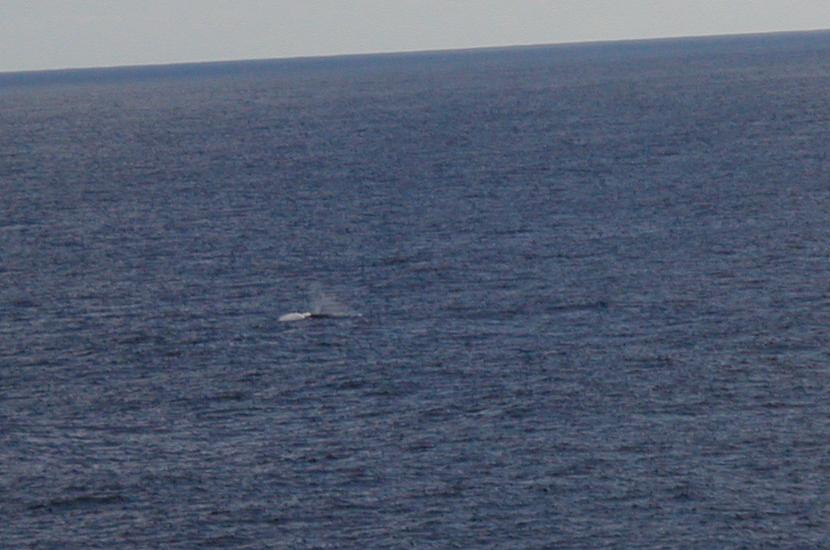 Fin Whale Blow
Tuesday 25th May
A lie in made us miss harbour porpoise and a minke whale, birds were few and far between mainly gannets. There were only a few wildlife watchers on deck and numbers dwindled as time, then came the call great shear, it was quickly picked up and watched for a few mins. We checked the position, just near the channel islands. Bonxies, comon terns, gannets and fulmars were seen along with a shearwater sp. too distant to id. As we approached the Isle of Wight bird sightings dwindled and all the tourists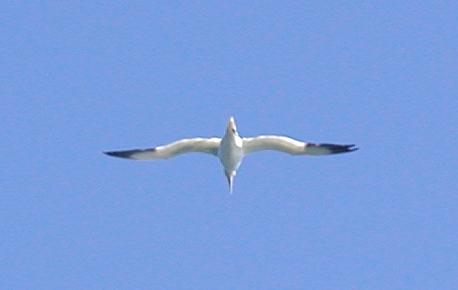 Gannet
General Notes
Watching
Most people on board shout out sightings and the Biscay Dolphin Research Programme http://www.biscay-dolphin.org.uk often have representatives on board who announce sightings using the tannoy system and give excellent presentations on whales and dolphins during the trip. The on deck spotters are most helpful and welcome people shouting out sightings. The boat is very stable and a scope can be used on the outside decks.
The best watching spots are on deck 11 just behind the bridge or just behind the large signs and whale watching info board on deck 11. In windier conditions deck 8 just behind the life rafts on either side provides sheltered spots but viewing is limited to one side.
On deck 11 there are no sun loungers allowed so take a foldable stool/chair as there are long periods watching not much.
Boat
There are two cinemas and a swimming pool on board, there are lots of bars, night clubs shops etc.
There is a snackshop at the rear of the boat on deck 8 which only sells drink and crisps etc. The café sells pizza sandwiches etc on deck 6 (£3.50 for a pannini or pizza), the restaurants are on deck 7, £7 in the canteen for a main meal £15 in the all you can eat carvery and there is a more expensive a la carte restaurant approx. £15 for a steak meal. The food was of very good quality.
Take your own towels as the ones provided were terrible and small, the rooms were fine although I got a LA 2 bed inside cabin at £96 per person.
Highlights
Little Shearwater, Great Shearwater, whales.
Misses
Harbour porpoise, Minke whale.
Mammals - 6 / Fish - 2
| | | |
| --- | --- | --- |
| Curvierís Beaked Whale | Fin Whale | Long finned pilot whale |
| Striped Dolphin | Common Dolphin | Bottle nosed dolphin |
| Tuna | Ocean Sunfish | |
Birds 35
| | | |
| --- | --- | --- |
| Great Skua | Artic Skua | Gannet |
| Fulmar | Little Shearwater | Great Shearwater |
| Sooty Shearwater | Sandwich tern | Common Tern |
| Yellow legged gull | Greater Black Backed | Lesser Black Backed |
| Herring Gull | Black headed gull | Storm Petrel |
| Coryís Shearwater | Red Backed Shrike | Fan tailed Warbler |
| Cettiís Warbler | Melodious Warbler | Swallow |
| House Martin | Sand Martin | Sparrow hybrids |
| Nightjar | Serin | Raven |
| Feral pigeon | Starling | Pied flycatcher |
| Tree pipit | Nightingale | Wheatear |
| Willow Warbler | Cormorant | |