Shipley Glen Cable Tramway
The shipley glen tramway runs through the popular visitor attraction of shipley glen, constructed in 1895 with two open carriages. The trams were rebuilt 1905ish in 1919 during the conversion to electric power. The carriages were rebuilt again in 1955, 1990 and 2011. The tramway closed in 1966 after a small accident but was saved from closure in 1969. The tramway again closed in 1982 and it was extensively repaired. Modern H+S technology was installed in 2010.
There is a museum at the lower station which is well worth a look.
Opening times
Sundays only 12.00 - 16.00

The Tramway is now run by volunteer Trustees and volunteers from the local public. SGT is owned by Bradford Council and the Tustees have taken a 125 year lease on a full repair and maintenance basis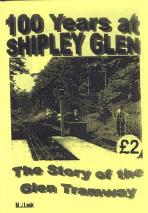 An extensive history of Shipley Glen Tramway the pics are could be a little better but well worth £2, available from the tramway.
The Stats
Date Opened
18/5/1895
Length
1/4 mile
Gradient
1in7 max
Track Gauge
20"
Number of Cars
2
Open to Public
Yes
Funicular Type
Track layout
Power Source
1895-1915

1915-1928

1928-

Railway Status
Mr Wood – was responsible for another major attraction at Shipley Glen. Wood realised that the hillside could also be used to create a thrilling ride. The ride he created two years later was called the Toboggan Run, and was a very early white knuckle ride. Riders were hauled up the slide by a cable tram and then careered back down the steep hill in a small toboggan car. The ride, built entirely from wood, was billed as the "longest, widest, steepest ever erected on Earth'. Unfortunately, several people were injured on the ride in 1900 hawser broke from a carriage, so it was quickly removed.