Centre for Alternative technology Railway
Centre for Alternative technology, Nr Machynlleth, Pows. Is home to to a water powered cliff railway
It is not however the only water balance railway in Europe as they state in their literature, as the Lynton and Lynmouth railway also boasts this method of locomotion.
They sell a funicular ticket only so you don't have to visit the centre.
It is 30m (100ft) high
It travels a distance of 53m (175ft)
The carriages weigh 3.5 tonnes each, plus a maximum of 1.5 tonnes for the water tanks
It is one of the steepest cliff-railways in the world, with a 34 degree slope
In a typical summer day it makes an average 10-12 runs per hour - that's 100 runs per day
Its average speed is 0.8m/s
On an average day 100,000 litres of water is sent down - 10% of which is then pumped back up, the energy generated by the falling carriage is used to do this, making extra energy necessary only to run the computer
It takes 50 seconds to completely fill the tank with 1600 litres
It has an unusually wide gauge of 5 ft 6 inches
The cables weigh half a tonne
The whole system is computer controlled, Braking is in five stages:-
1.) The discharge of oil from accumulators is controlled this determines the speed.
2.) If the speed exceeds 0.9m/s a caliper brake on the central shaft is applied by the computer.
3.) If the speed exceeds 1.0m/s another caliper brake on the central shaft is applied by the computer this should bring the train to a halt.
4.) If the speed exceeds 1.15m/s in the event of a failure of one of the previous braking stages then the second set of brakes cuts in these are on a secondary rope and are initiated by a set of governors, the parking brakes are applied at this stage.
5.) If the speed exceeds 1.25m/s the jaws in the governor clamp the secondary cable and this pulls the mechanism to release the carriage jaws which clamp on to the central wooden rail and halt the train.

www.cat.org.uk/visitus/sitetour1.tmpl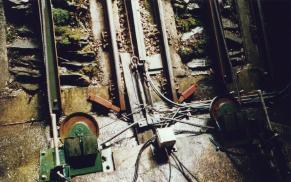 The Stats

| | | | |
| --- | --- | --- | --- |
| Date Opened | ?/5/1992 | Length | 53 m |
| Gradient | 34&deg | Track Gauge | 5 ft 6" |
| Number of Cars | 2 | Open to Public | Yes |
| Funicular Type | | Track layout | |
| Power Source | Assisted by | Railway Status | |