Worcestershire Quarries
Colwall Park Quarries
The line descended an incline from the quarry where the car park currently is, until went south until it reached the road a hundred yards north to the Royal Wells Brewery. Here is crosses the road through the garage of the house called Monellan which used to be a winding house. It then drops through park wood to a small mine complex with another small incline and ultimatly down to the lime kilns which are stills present on Brockhills road.
Incline route marked in Black
Image produced from the Ordnance Survey Get-a-map service. Image reproduced with kind permission of Ordnance Survey and Ordnance Survey of Northern Ireland.
Hollybush Quarry
Hollybush Quarry, is at the southern end of the Malverns consists of two pits at different levels, and there was once an incline to bring stone down from the higher level. No traces of the incline survive in my 2006 visit.
Little Malvern Quarry
In 1909, the Pyx Granite Company Limited negotiated a lease with William Berington, for the mining of stone from the Little Malvern Quarry. The quarry was some 100 yards above the main Road. In order to transport the coal to road level a self-acting railway was built in 1909. Several parts of the incline cab still be seen today.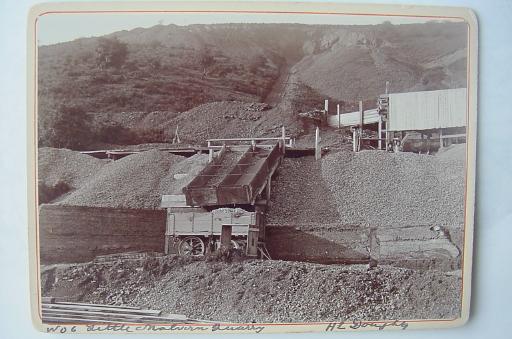 The above photo is copyright of "Malvern Hills Conservators" and used with their kind permission.
Tank Quarry
Little information is known other than that shown on maps of the area, the quarry is still there with a picnic place but there are no remains of the incline.