Admiralty incline Portland
The Knob, is relic of unquarried, nearly horizontal, stone left when Cherty Series has been removed from around it. This old quarry seems to be a part of the extensive Admiralty Quarries which provided materials for the Portland Harbour Breakwaters. Adjacent to it, on the cliff to the east, is the Admiralty Incline. This was a long slope with railway tracks, down which railway waggons were lowered by galvanised steel ropes. These were continuous and two miles long.
The incline has no access as it is in some kind of restricted military site, its route is a road named incline way. It can be overlooked from footpaths near the High Angle Battery but take care it is a bit of a maze.
Verne incline Portland
Constructed in the 1890's from the top of Verne hill to the Docks in Castletown. It was a counterbalanced incline to transport the stone to barges. The remains are still in place and are easily accessed from the High Angle Battery car park.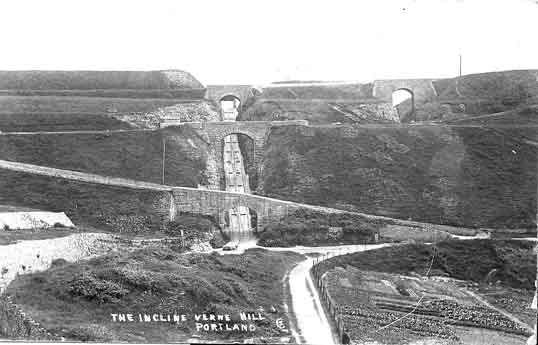 If you are the person who sent me this picture please contact me to credit you