Upper Douglas Tramway
Opened to allow the the connection of the horse drawn trams at Victoria Street terminus and the terminus at Broadway. It climbed up a steep gradient that horse drawn trams could not make. The route was up Victoria St, Prospect hill, along Buck's Rd, Woodbourne rd and down Ballaquay Road to Broadway. The winding house and depot were built on Ballaquay Road. The system was a continuous cable, mainly twin track but some single line near the depot and Broadway with the trams attached to the cable with detachable driver operated grippers. The single line section was closed in 1901 the rest of the line closed in 1929. The trams were single decked 11 in total.
Tram 72/73 is preserved in the Horse tram shed in Douglas, it has been restored from both 72 and 73 and it has a different number at each end. Some other relics are preserved in the shed, a small length of rail is preserved at the Jubilee clock. Nothing else remains.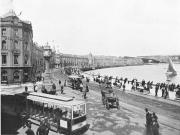 Reproduced from www.manxnotebook.comwith kind permission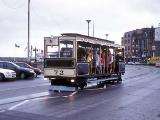 Douglas cable tram 72/73 running on its battery-powered trucks. Photo courtesy of Geoff Cryer. Visit Geoff's Rail Pages for more excellent pictures.Copyright G A Cryer
Reproduced with permission from www.manxnotebook.com
2007 Visit
2010 Visit in New Museum
The Stats

| | | | |
| --- | --- | --- | --- |
| Date Opened | 15/8/1896 | Length | 1.57mile |
| Gradient | 1:10.6 | Track Gauge | 3' |
| Number of Cars | 11 | Open to Public | ? |
| Funicular Type | | Track layout | |
| Power Source | | Railway Status | |