Birmingham Handsworth
Originally a horse drawn standard gauge tramway it was converted to 3' 6" along with cable traction in 1888. It survived until 1911.
Whitmore St Winding House
Colmore row
New Inns
In 1883, South Staffs Steam Tramways Co. Ltd. operated steam trams through West Bromwich to meet existing horse drawn trams from Birmingham at the New Inns, Handsworth. In 1885 it was decided to reconstruct the Handsworth tramway to the 3'6" gauge using cable traction rather than steam. A large winding depot was built in Whitmore Street, Hockley with two steam winding engines for the two cables, Hockley - Colmore Row, and Hockley - New Inns. The cars, open-top vehicles on two four-wheel bogies with the drivers' platforms un-canopied started running in 1888. The cars gripped the moving cable which ran in a slot between the running rails, and was controlled by means of a lever on the platform, the cable running at a speed of 9 m.p.h. Some single-deck bogie cars with open sides and cross-bench "toast-rack" seating were quite unsuited to the route and were transferred to the Kinver Light Railway. At the New Inns the cable trams connected with the South Staffordshire steam trams. (From "Handsworth Magazine" 1899, "Uniform 1d fare introduced on Cable Route. Colmore Row to New Inns for ld. service of one car every 11 minutes).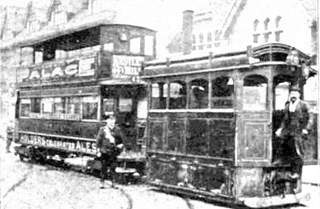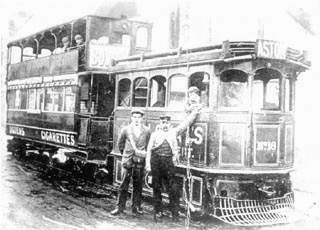 Many Thanks to the Handsworth History Society for the above photo's.
Photo by kind permission Bob Mills His website