Glasgow Tube
Opened in 1897 it was cable hauled from construction until electric conversion in 1935.
It consisted of two lines the Inner and Outer Circles they followed a Circular route under the city, crossing the Clyde twice it had 15 stations the lines opened on 14-Dec-1896. The lines were powered from Scotland Street and the cars used a single jaw side driver detachable grip. The line was 4'0" gauge.
The trains consisted of single ended, single and double bogied closed-bodied grip cars and trailers.
The Glasgow District Subway built two tunnels on a circular 6.5 mile route around the city. The conservative directors chose cable to operate the system because they felt that electric propulsion was not sufficiently developed. This was the only Hallidie-type cable-driven subway in the world. London's Tower Bridge Subway and Istanbul's Tunel were both funiculars.
The subway opened on 14-Dec-1896, but an accident caused service to halt until 21-Jan-1897.
The system had many interesting features. There were no track connections between the Inner and Outer Circles. There was no rail connection with the shops; a crane lifted cars out of the tunnels for servicing. Cars generally spent the night in the tunnels. The platforms were only long enough to handle two-car trains. The cable used was 1.5" in diameter, which was unusually thick for the industry. The cable ran at 12.5 miles per hour. There was no need for a conduit, so the cable ran above the rails.
The cable system was characterised by a number of unusual features. There were two cables, driven by steam from a main power station, one for each tunnel. Each cable was an inch and a half thick, and weighed about 57 tons. The cables were placed between the tracks, kept in motion during the whole of the time that the line was open to traffic, and ran at a uniform speed of twelve and a half miles an hour. Beneath the cars was a gripper device. When this was applied to the cable the cars moved forward, while its release brought them to a standstill. The gripper itself was composed of two steel jaws, of which the bottom one was fixed, while the upper one was designed so as to be raised or lowered on the actuation by the driver of an arrangement of links and levers. It will be seen that this method provided a simple means of starting and stopping the trains on a line on which the haulage cables were in continual motion.
In 1923, the Glasgow Corporation (city) took over the system. They tested third-rail electrification in 1933. In March, 1935, they electrified the Inner Circle. On 30-Nov-1935, the last cable-driven train ran on the Outer Circle. Both lines used converted cable stock.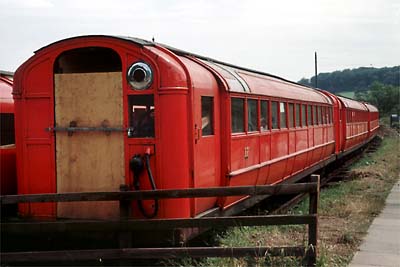 Recently retired cars from the Glasgow Subway at the Beamish Museum in County Durham from with permission Geoff's Rail Pages copyright G A Cryer