Edinburgh Trams
Waterloo Place (Preserved section)
It started life as two single lines each 1.5 miles long. The first ran from Hannover st to Ferry Rd. The line had the winding house and depot in Dundas St, it ran as a continous cable in a central channel with the trams connected by driver operated detachable grippers. It opened in 1888, followed shortly by another line from George St to Comely bank in 1890. This became the longest cable tramway network 36 miles with the longest travel of a single cable of 6.5 miles long, did not prove a sucess, it used continous moving cables with grippers that could detach. The cable diverted at some points to the engine house here it was necessary to detach the gripper and free wheel over the junction and re attach. It was converted to electric in 1922. But at its height has 205 cars.
Edinburgh's cable tramway system comprised of a cable that ran under the streets and moved at a constant speed. The trams had grippers that held on to this cable when the wished to move forwards. The first trial length of this system was opened in 1899. It ran: - from Pilrig (half way between Leith and Edinburgh - close to the Transport Depot at Shrubhill, where the engine that powered the moving cable was housed - to St Andrew Street - close to the Scott Monument in Princes Street.
The tram car depot in Henderson Row still exists, as do some remaining cable tunnels etc underneath Henderson Row. These exist today. There is a very small preserved section of cable track in Waterloo Place (at the East End of Princes St) in Edinburgh. When the trams ran, there was a good 100ft or more. This is/was at the "Post Office" tram Terminus.
Goods Corner
The preserved section at Princes St, Waterloo Place and Leith St.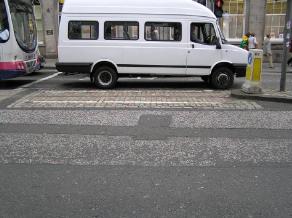 The preserved section on the site of the old tram depot Henderson row and Henderson Place.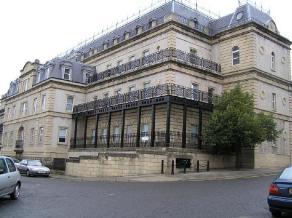 Old Pictures of Cable trams

Many Thanks to Ross Gordon for the pictures

Old Postcards

Old Pictures of Cable trams

Many Thanks to Ed Jones for old the pictures above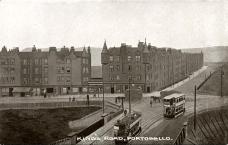 Many Thanks to Peter Stubbs for the above photo from his Website

The Edinburgh Cable Car at electric tram interchange near Jopa. Many Thanks to Lothian Buses plc for permission to use these photo's
A photograph taken in 1919 of Trams on Princess St, used with kind permission of Chris Myers