---
Devizes White Horse Old Information
---
DEVIZES MILLENNIUM WHITE HORSE
Location - Bank Field , Roundway Hill
Ordinance survey reference - SU 016641
Dimensions of the White Horse - length : 45.7 metres height : 45.0 metres
Route to White Horse - Follow the A361 towards Swindon. Turn left at the sign Roundway Garden Industrial Estate and follow Folly Road towards Roundway Hill - on entering Roundway take the right-hand fork at the telephone box and again the right-hand fork at the next junction. Bank Field is the field at the top of the rise on the right. There is a stile for public access to the field.
It is possible from the Vale of Pewsey to see both the Alton Barnes and the Devizes White Horses, facing each other.
Sponsored by, and without whose help the Project could not have proceeded, Wiltshire Tourism, Pearce Civil Engineering, Crown Estates Commissioners.
Artist Impression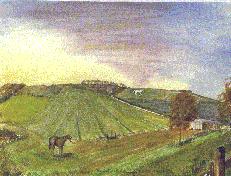 The Big Dig Weekend
The digging of the outline of the horse will take place over the weekend of 18/19th September.
The Schedule is as follows
Saturday 18th
10-12 noon Taping the outline around the pegs which have already been positioned
2-5pm First sods cut jointly by Noel Woolrych, Mayor of Devizes and Peter King, Vice Chairman of Roundway Parish Council whose support has been vital to the whole project.
This will be followed by the community dig with local groups and individuals arriving and departing at half hour intervals, each individual to dig one metre in length. (Total length of horse approx. 230m)
Certificates acknowledging their effort will be available to all the diggers.
A face painting site will also be on site.
Sunday 19th
9-12 noon Completing the dig, with the same format as Saturday.
Monday 20th
The site will be closed to allow Pearce Civil Engineering, our principle sponsors, to dig out the body of the horse, complete any leveling required, infill and impact with chalk and position the eye and nostril to complete the figure.
The Cutting of the horse proceeds with the following timetable
28-29th August and 11-12th September - The Pegging Out - The pegging out of the horse design will take place on Bank field
18-19th September - The Community Dig - A weekend when parties, groups and individuals can bring their spades and take part in digging the outline of the horse.
20th September - Completion - Pearce Civil Engineering of Devizes will complete the task by excavating the main bulk of the topsoil, extracting the new chalk from the pit and crushing it into place within the horse figure.
General Information
Note This horse is only proposed at the moment

National Grid Ref SU 016 641

Information Supplied by Mrs Sarah Padwick

In the summer of 1988, I was unwell for some months, with nothing better to do than let my mind wander. I envisioned a new hill figure cut on the slope of Olivers Camp, an old iron age hill fort on Roundway Down above Devizes in Wiltshire. After a letter to our local newspaper, I discovered from various people that there had been a horse cut on that slope back in 1845 by apprentices to the shoemakers guild in Devizes. It had been nicknamed the "Snobs horse" Snob being the colloquial word for a cobbler. The outline of the old horse is still just visible in certain conditions and a photograph was taken in 1979. Every so often, people had contemplated the possibility of re-establishing the whitehorse which was once cut on Olivers camp on Roundway Down above Devizes, however, this has never been achieved.

Following exploratory discussions, this particular site was deemed unsuitable for re-cutting as:

a) The land is now an English Nature Site of Special Scientific Interest,
b) Cutting would be too close to the the old iron age hill fort ramparts and so, not acceptable with English Nature and
c) Access to the site for cutting and ongoing upkeep is very poor.

However, a different site on Roundaway Down has been agreed upon and the cutting of a new figure will now go ahead in honour of the millennium. The design will be based upon the 1954 plan by Mr Peter Greed together with Mr James Smith, who "discovered" the Snobs horse with sixth formers at Devizes Grammar School. It will face eastwards up the Vale of Pewsey as if going from Devizes to meet with thw Alton Barnes Horse.

The Ordnance Map Reference for the site is SU 016 641 in the field known as Bank Field belonging to Mr Chris Combe of Roundway Hill Farm. This site has a marvelous 170 degree field of view from Devizes across the Vale of Pewsey and back to Bishops Cannings.

Kennet District Council required us to complete a full planning application for the cutting of the horse. Permission was granted at a meeting on the 29th of April 1999. This is the final permission needed to proceed with the project.

We have sought advice on the total costing of the project: the surveying and cutting, the facing with chalk pieces and making the site safe and, most importantly, the setting up of a fund to cover ongoing expenses and upkeep for the next millennium.

Mrs Dot Williams, Tourism and Finance Manager at Wiltshire County Council, (01225) 713023 is undertaking to co-ordinate the application for match funding from the Lottery Millennium Fund, but to be successful, we would like to hear from anyone with a real interest and commitment to take this project forward: any group, business or individual committed to raising support and especially FUNDING, both immediate and ongoing.

We anticipate that the project will promote the town of Devizes, its ancient heritage and attractive surrounding countryside. It will provide an additional feature for the tourist map of the area. We also hope that this project will be a fitting celebration of the coming millennium and an inspiration to all those in the Devizes area.

We would like to encourage anyone with a committed interest in the project to give their time, energy, interest, expertise, muscle power and, of course, support in funding. We will then be able to get the show on the road!

We would like also to setup a supporters group, perhaps named after and commemorating the Royalist Army, victors of the Battle of Roundway un 1643, called "The Cavaliers of the Devizes White Horse".

For further details of the white horse contact any of the following

Mrs Sarah Padwick
Linden House
London Rd
Devizes
SN10 2DS
Tel/Fax (01380) 721 595
Mobile (0411) 018604)


Mr Peter Greed
The Bungalow
Townsend
Urchfont
SN10 4RR
Tel (01380) 840 865
Mobile (0966) 542 293


E-mail lf72@dial.pipex.com

Mrs Donna Hutchinson
10 Wilcot
Nr Pewsey
Wilts
Tel (01672) 564 299
Mobile (0468) 061 066


Mr John Markwell
Ormond Lodge
London Rd
Devizes
Wilts
SN10 2DS
Tel/Fax (01380) 721 102
Mobile (0468) 891 369


For General Whitehorse and Hillfigure Questions contact Mark Hows
---