---

---
2004 Itinerary
Scotland 2003/04
27th Dec 2003 - 3rd Jan 2004.
Rail timetable from Inverness to Plockton, with connections to Edinburgh and Glasgow.
This year's New Year trip is to Plockton, which is located on the west coast near Kyle of Lochalsh. We will be staying in Plockton Station Bunkhouse, which is unsurprisingly located near the Plockton train station, which is on the Inverness to Kyle of Lochalsh line.
The bunkhouse is booked from the 27th December to the 3rd January, and the cost is £9/night assuming all the beds (20) are filled.
Plockton is near Kyle of Lochalsh, which makes it ideally located to get to a number of mountains, such as the Cuillins and Torridon, and others in between.
Plockton ("Britain's Prettiest Village") was founded in the early 1800's as a planned fishery town, is now a thriving village with a number of shops, hotels, restaurants and, of course, pubs. You may have seen it on the TV or the silver screen, as it it where "Hamish MacBeth" and part of "The Wicker Man" were filmed.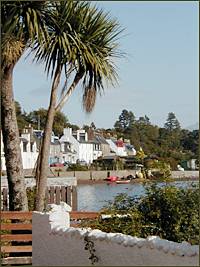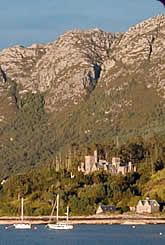 Plockton and the surrounding area have a number of activities available (of course not all of these can be guaranteed to be open at New Year so advance checking would be advisable):
- Walking
- Swimming (at Kyle of Lochalsh)
- Sea Trips
- Castles
- Golf
- Riding
- Fishing
- Sailing
- Cycling
- Wildlife watching inc. a rare breeds farm
As far as evening entertainment is concerned, the Plockton Inn and the Plockton Hotel (AA 2002 seafood restaurant of the year) look favourable.
If you want to go, please let me know and send me a £10 deposit.
If you have an internet connection, Plocktonn's web site has a vast amount of info about the village and surrounding area.
Links: Plockton: http://www.plockton.com
highlands Tourist Board: http://www.host.co.uk/welcome2.asp.location-hospor.pagetype-content.category-guide.htm
Skye & lochalsh Marine Tourism Association: http://www.slmta.co.uk/pages/home.html
Plockton Inn: http://www.plocktoninn.f9.co.uk
Plockton Hotel: http://www.plocktonhotel.co.uk

Kilnsey, Upper Wharfdale, North Yorkshire
Friday 19th -Sunday 21st March 2004
"What about us kids then?" Asked one offspring
"Yeah, we need small rooms to make lots of noise and play hide and seek" said another
"And my mum says small children have rights like all the grown up have" says the third
So responding to a parental request, and pre-empting a nightmarish scenario such as the above developing, the 2004 spring SHOT trip has been organised with a family friendly bunkbarn in mind.
Skirfare Bridge has been visited by many shot members' in the past who will confirm that it is much more commodious than the last one in Snowdonia! The bb consists of 6 heated bedrooms on the ground floor sleeping a total of 25(1*2, 1x3, 3x4, 1x8). A large spacious lounge and a well equipped kit on the ground floor. The lady's and men's washrooms are also on the 1st floor with an additional shower and toilet and dry room on the ground floor. There is ample parking and a grass activity area which maybe appreciated by the under 10s
The bunkbarn is situated near the junction of Littondale and Upperwharf Dale in the Yorkshire Dales. It is very easy to access from Skipton 12 miles to the south. From the Skipton bypass take the B6265 towards Grassington for 8 miles and then the B6160 at Thrishfield. Continue towards Kettlewell passing the Pennant Arms Hotel on the left hand side in the Hamlet of Kilnsey. Just beyond also the left, is the famous overhanging limestone cliff of Kilnsey Crag. About 800 yards pass the Pennat arms and just Old North Cote Farm on the right and immediately before the minor road junction and bridge for Littondale also on the right hand side is the bunkbarn, if anyone goes over the bridge and finds themselves in Kettlewell 2 miles late on then have a drink in the Racehorses or the Bluebell, concoct a good story and return the way you have come. This time the bunkbarn is just after the bridge on the left hand side.
Between Skirfare Bridge and Old North Cote Farm is the Confluence Centre. This is another very good but smaller bunkbarn, which has been booked for the same weekend by Nick and Suzy to celebrate both their 30th birthdays. Whether its fate, coincidence or natural synergy there birthdays are 1 day apart! They have filled their bunkbarn with friends but the plan is the SHOT contingent up the road will help celebrate their birthdays. Nick and Suzy are hoping to organise something down at the Pennets Arms for the Saturday evening. Details of this will either be forthcoming or be available at the weekend.
Excellent limestone scenery surrounds Littedale and UpperWharf Dale. Early spring lambs in nearby fields may apply to some people, but it will be the high fells of Buxton Pike, Great Whernside and Fountain Fell that will attract others. The Dales Way long distance path threads it way on a limestone shelf above the village of Coniston and gives plenty of opportunities to devise attractive walks of a less demanding nature. Both dales contain excellent village pubs, whilst the larger village of Grassington provides the usual tourist amenities.
Activities for kids will no doubt be provided by their parents, but if the kids become bored or in sufferable then interesting alternatives like seeing how many can be lost down a pot hole in 1 go could be a solution. Swapping kids for pooh sticks is another 1, and simultaneous kiddie bungee jumping at Kilnsey crag, would be a hoot as well
Preference will be given to families taking the small rooms, but they will be expected to make a generous contribution to the cost. It is anticipated that there will be more people then beds, so we cannot afford to sacrifice any spare ones. Some compromises will have to be made.
Please send a £5 deposit to Gus, to bag a bed(and/or your requirements) by end of Feb. He will be in Majorca during March, so Julian will take reservations from then and be in charge at the weekend. Hopefully everyone will be accommodated satisfactorily without any undue problems. It promises to be a bumper weekend
Send £5 deposit to Gustav to bag a bed or else.
Llanrhian, North Pembrokeshire
18th-20th June 2004.
As many people know XXXX is how Australians spell beer. However, XXXX is also how old Julian will be on the Sunday of this weekend. Yes indeed, another member of SHOT joins the veteran section. With this in mind and the fact that Pembrokeshire is such a long way from anywhere in Britain (especially Ipswich) the Summer solstice trip will be THREE days long this year. It misses the weekend traffic by starting on the Thursday. Preference will be given to people staying for the entire weekend.
Caerhafod Lodge is a short distance from Llanrhian in an elevated position overlooking the sea just a few hundred yards away. It consists of 5 en suite rooms (3 x 4 beds, 1 x 5 beds and 1 x 6 beds) at £12 per person per night and children at £9.50. Bed and breakfast accommodation is also available (1 twin and 1 double plus bunk beds) at £20 per person. Youth Hostel accommodation is found at Trefin less than one mile away. Further Bed and Breakfast accommodation will also be available locally. The Lodge has all the usual amenities including a patio with benches, outside tap and hose for washing down wet suits or kids, lockable storage for bicycles or kids, and limited bicycle hire. Access http://www.caerhafod.co.uk/for further information.
Some members of SHOT have walked the Pembrokeshire Coastal Footpath and will vouch for the stunning scenery on this section between St. David s Peninsula and Strumble Head, especially the virtues of the Inn at Porthgain just a short walk across the fields. Despite its seemingly depressing industrial The S p surroundings, when it was one of Britain's busiest ports in the 19th Century, Porthgain is full of interest in marked contrast to nearby Fishguard.
Naturally the coastal walking from Solva to St. David's (Britain's smallest town), past Ramsey Island, around St. David's Head towards Porthgain will appeal to most. The path continues to Trefin and Strumble Head and the monument at Carreg Wasted Point (commemorating the last invasion of Britain by the French in 1797) and beyond to Fishguard. For the bucket and spade brigade the superb sandy beach at Whitesand Bay will be the daily target with perhaps the closer, smaller Abereiddy Bay being an alternative. The area is also noted for the seabird population (sparrows etc), ancient cromlechs such as Pentre Ifan and further a field the source of the stones used for Stonehenge on the Preseli Hills. Sea angling, scuba diving and chocolate factory visits are also possible.
Reaching Caerhafod Lodge does not require excessive navigation skills. First of all target Croesgoch village (The Artramont Arms) at a minor crossroads on the A487, which lies 6 miles north east of St. David's and 10 miles south west of Fishguard. Follow the minor road north west for one mile, signposted Llanrhian and Porthgain. Turn right (north-east) at the minor junction at Llanrhian, signposted Trefin. Drive past one minor road coming in from the right and then reach Caerhafod Lodge, also on the right after one half mile. The grid reference is SM 827 317. Access the multimap or streetmap web sites used before by SHOT if need be.
Despite the paucity of Italian restaurants in the area, Julian will hopefully be able to organise a suitable meal in one of the local pubs on the Saturday evening to celebrate his big XXXX. Details about that will be forthcoming nearer the time once names and monies are collected. In the meantime please contact Gustav in the usual way to secure a place with a £5 deposit.
Editors Note: As you know Pembrokeshire is famed for its famous coastline, and some of you may have heard of Coasteering, basically an activity where you travel the coast line by the base of cliffs, swimming and jumping around on the cliffs. I am looking to organise a group to do this one day, cost will be around £30 for a day with full use of a guide and safety equipment, if you are interested in signing up, please let me know and we may get a discount as a group, an example of companies running this activity is; http://www.preseliventure.com/activities/coasteering.shtml
Brecon, South Wales
22nd Oct 2004 - 24th Oct 2004.
The Canal Barn Bunkhouse on the Brecon and Abergavenny Canal near Brecon Town Centre is the venue for the Autumn SHOT trip. This is a purpose built, fully equipped bunkhouse including 6 bedrooms (1x6, 4x4 and 1 x2). Make sure you bring a sleeping bag. The bunkhouse has a large sheltered garden with duck pond. Despite its name it is not canal side, but lies behind the owner's house called Ty Camlas. Further details can be accessed from their website www.canal-barn.co.uk To reach the bunkhouse follow the A40 from Abergavenny and meet the Brecon bypass at the large roundabout with the A470 to Builth Wells on the east side of Brecon. Follow the old main road, now the B4601, towards Brecon Town Centre and watch out for Safeways and a garage on the left. Immediately before Safeways turn left between it and a house and shortly cross a canal bridge. Turn right in front of Ty Camlas and then left before some houses and then immediately left again to reach the bunkhouse. Grid Reference SO 052279. Rising to the south of Brecon are the Brecon

Beacons with summits like Pen y Fan (296ft) forming part of an impressive scalloped escarpment overlooking Brecon and the Usk Valley and dipping down to Merthyr Tydtil and the Welsh valleys to the south. Further east are the much less frequented mountains of the Fforest Fawr group, and still further east Black Mountain and other outliers of the Brecon Beacons National Park. Canal side walking towards Talybont and its reservoir provide low level alternatives.

Opportunities for kids include pony trekking etc at an activity farm less than three miles away, and a 'play barn' at a caravan park about one mile away. McDonalds, Burger King, Pizza Hut and other family friendly rip-off joints are located in or around the town centre. There is also the regimental museum of the South Wales Borderers made famous by their exploits during the 19th century Zulu Wars and also by Michael Caine in the best film of all time. And not a lot of people know that. The grown ups have a selection of 15 pubs in the town (nearest 400 yds) and alternative eating establishments. To book a place or room please Send Gustav the usual £5 deposit. The cost per person per night is £12.50.
Christmas Meal 2004 - Riga
3-6th Dec 2004

As the largest city in the Baltics, with a population of 800,000, some say the good things in Riga are particularly good and the bad things are particularly bad. Thatís to say, on the bright side, it seems to have the most vibrant nightlife by far in the Baltics. But, on the down side, itís also got the worst traffic. However you look at it, Riga is regaining its reputation as a fun-filled, forward-looking city. Increasingly confident Rigans are again applying the cityís pre-war label: the Paris of the Baltics.
The generally-held belief in the Middle Ages was that he who ruled Riga ruled the Baltics as a whole hence the centuries of war fighting for control of this city. This Riga-as-a-key-to- regional-domination strategy is certainly not as valid as it was in the days of the Teutonic Knights. Still, as the biggest and most centrally located Baltic city, many observers continue to believe that Riga could very well become a regional powerhouse four or five years down the pike.
The biggest and most cosmopolitan Baltic capital, Riga can also appear a little chaotic, unwieldy and, at times, intimidating and rough. With its predominantly Russian population, Riga also seems more ill-at-ease with itself than the other two capitals, and a little more schizophrenic. But this isn't necessarily new to Riga, which has been a multi-cultural city throughout its 800-year history. At one time or another, Germans, Jews and Russians have all left their mark on Riga.
This past diversity is evident in the eclectic architecture of the city. Breathtaking Jugendstil mixes with Classical Symbolism, Constructivism and a spattering of Stalinist-era horrors. In Riga, the buildings have a distinct sense of humor. Walk with your head up for architectural wonders you're not likely to see anywhere else.
As it has modernized since independence, Riga has retained something of its distinctive, old-world feel. Rigans aren't just throwing out everything old and replacing it with something new, and possibly worse. This is a city, thankfully, where you can still turn a corner or walk into a room and feel that you have stepped back into the 1890s or the 1920s. If Riga continues to build on its past, its future looks bright, indeed.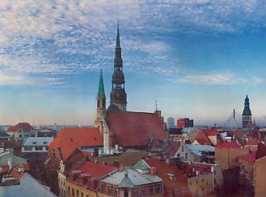 Scotland 2004/05
27th Dec 2004 - 3rd Jan 2005.

Since we've been to the western side of Scotland for the last three New Year trips I decided that it was time we headed a bit further east - and nottoo far north - so this year's trip is to a bunkhouse called the Adventurers Escape in Weem, less than a mile outside Aberfeldy in Perthshire. The dates are 27th Dec 2004 - 2nd Jan 2005, 6nights (Mon. 3rd will be a public holiday since the 1st falls on a Saturday).
You can find full details of the accommodation at http://www.adventurers-escape.co.uk and www.hostel-scotland.co.uk/hostels/, but here are the vital statistics: o Comfortable new bunkhouse (just completed in January) with a dining area big enough to comfortably seat 20, and, according to www.canoeslalom.co.uk, "great drying rooms and excellent facilities" o Dorms in bunkhouse (all described as very spacious): 2 x 4-5 beds; 1 x 8 beds; 1 x 2- 3 beds (2-3 means a double and a single) o Additional accommodation (but unfortunately no separate kitchen facilities) available in studio: 1 x 3-4 beds and 1 x 3 beds - good for families. o Pub next door and another 400m away, not to mention the wider choice in Aberfeldy Besides the obvious mountain walking, the area is good for rafting, mountain and road biking, canoeing and rock climbing. Local attractions for the less energetic among us include the Scottish Crannog Centre (a reconstructed Iron Age dwelling), Castle Menzies, the village of Fortingall, the Falls of Moness, Aberfeldy Distillery, a restored water mill and Cluny Gardens. (I can't guarantee that these will all be open when we're there though!) Pitlochry is only eight miles away, Crieff 17 and the relative metropolis of Perth 23. The accommodation is perhaps a little on the pricey side, as bunkhouses go, but we are getting six nights for the price of five and studio beds, usually more expensive, for the same price as bunkhouse beds. It's £75 per person for 6 nights over New Year or £15 per night if you don't stay for the entire duration. Price includes bed linen. I did try to negotiate an additional discount for children but unfortunately wasn't successful, as each one still takes up a bed (unless in a travel cot). At the last count I had a total of roughly 20 people who said they were more likely than not to come along, including most of our family members. Please email or call me (lynne@tanukihouse.com / home 0121 744 2427 / mobile 07720 707749) to confirm your interest; a £20 deposit sent to me at 269 Baldwins Lane, Birmingham B28 0RF will secure a bed. Families might want to get in quickly with those deposits to make sure you get the best rooms for your needs! I've already had to put down a £300 deposit and the balance is due by December 1st so I'll be looking for payment in full before then. For those who want more general local information, try these sites:
www.geo.ed.ac.uk/scotgaz/towns/townfirst140.html
www.scotland247.co.uk/aberfeldy2.htm
www.scottish-towns.co.uk/perthshire/aberfeldy/
www.undiscoveredscotland.co.uk/areakill/ www.undiscoveredscotland.co.uk/aberfeldy/aberfeldy/index.html
www.perthshire-scotland.co.uk/aberfeldy2.htm
Newsletters
---


---