Daily Guide
Friday 20th January – Kotu.
We arrived without problem; the first bird was an unidentified dove, on the airfield followed by an unidentified raptor. The trip to the hotel was more productive blue bellied rollers and long tailed shrikes on the telegraph lines, buffalo weavers in large nests by the roadside. Hooded vultures and pied crows soaring above the roads and long tailed glossy starlings by the roadside. We checked in then walked round the hotel red billed firefinch was found then popped to the supermarket for water and then to the sewage ponds over the road, someone called uncle tried to get money from us saying he ran the place and you have to pay. This is untrue tell him your guide and you have already been here and tell him to get lost. After getting rid of him and the other bumsters we explored and pied kingfisher and spur winged plover were quickly spotted followed by Senegal coucal and red billed hornbills. Palm swifts passed overhead. We also had grey headed gulls, black winged stilts, common sandpiper, African jacana, cattle egrets, black egret, little grebe and white faced whistling ducks were all on the lagoons. Two African hobbys were perched on a dead tree. Western plantain eaters and Senegal parrots came in to roots in the trees. We flushed a double spurred francolin from the undergrowth. We headed back to the hotel for food and to meet our guide for the next week or so.
Saturday 21st January – Kotu Area.
An early start and we walked round the back of the hotel all three egrets were easily found along with sacred ibis, we had some of the commoner species like common bulbul, plantain eater, pied crow before watching a group of mixed doves giving a good opportunity to sort them out, red eyed, laughing, mourning and vinaceous all present. Tawny flanked prinia, African silverbills and village weavers were all easily located in the scrub. Hammerkop, black egret, western reef herons were in the pools. We headed towards the Sunset Beach hotel passing night and striated herons. And into the rough area where we easily located three yellow throated longclaws and zitting cisticolas. Two African hobbies showed well hunting over the pools. We got to the creek in the hotel grounds and had little bee eaters, malachite kingfisher, bearded barbet, the usual common waders and Senegal thicknees. We passed onto the beach and walked into some mixed trees and scrub behind the beach bar here we had more common species house sparrow, grey headed sparrow, firefinches, weavers, purple glossy starling, blackcap babbler, buffalo weavers, bronze mannikins and bishops. We had scarlet chested variable and splendid sunbirds, grey kestrel, Abyssinian rollers, double spurred francolins, subalpine warblers, melodious warblers, green wood hoopoes as we explored this area. We reached the cycle track and walked back to the guides van and headed over to the Senegambia hotel for the vulture feeding. Here we had good views of hooded vultures pied crows and cattle egrets and a lavender waxbill. Back to our hotel and we visited the Jacana pool. It was obviously full of Jacanas (hence the name), black winged stilts squacco herons, wood sandpipers, a black crake was in the far right corner. A large nile monitor was found as well as a pond turtle. We went into the rice fields and searched for painted snipe with out success but found a palm nut vulture on the palms. A quick lunch then we headed out to Fajara golf course just behind the beach bars we had agama and skink lizards, cordon bleu, firefinchs. A yellow crowned gonolek was in the scrub with some of the commoner species. The golf course was very busy with a tournament and thus were less birds than usual.
We still found black headed and wattled plovers, osprey, harrier hawk, pied kingfisher, dunlin amongst others. We headed to Kotu bridge where we had wire tailed swallows on the wires and long tailed cormorant flying over, we walked along the creek path towards the sewage pools more Senegal thicknees were found here another palm nut vulture, fork tailed drongo, red chested swallow bearded barbet, variable sunbird we headed to the sewage pools the same birds as the previous evening with the exception of a red necked falcon and ring necked parakeets. We were finished for the evening. A couple of small insect eating bats were hunting over the pool while we dined.
Sunday 22nd January – Up River to Georgetown.
We were up in the pitch black of the early morning to meet the guide and driver for our up river excursion. We reached the ferry quickly but too three hours to get on one due to the corruption of the vehicle loading staff. A few birds were seen during the wait, house sparrow, red chested swallow, beautiful sunbird. Caspian terns, grey headed gulls, gull billed terns a storm petrel and a flock of knot were seen during the crossing. After a quick stop in Barra for supplies we headed off the north bank road our destination being Bird Safari Camp in Georgetown now renamed Janjanbureh (some locals also call it Makat). We quickly had a Northern anteater chat, a group of common swifts and pallid swifts. Further down the road we encountered little swifts and mottled spinetails, then red chested swallows and house martins one stop we had striped ground squirrel. A dead goat carcase had rüpell's griffon, white backed and hooded vultures in attendance. We made stops for short toed eagles, dark chanting goshawks, brown snake eagle, yellow billed oxpecker, grasshopper buzzard. We made a couple of slightly longer stops for pygmy sunbird, and little green bee eater. We stopped for lunch by the roadside and located chestnut headed sparrow larks and exclamatory paradise whydahs. We continued picking up rufus crowned rollers. We reached the first stop for the Egyptian plovers with no luck, there were two marabou storks and a tawny eagle soaring. We carried on to the next stop two Egyptian plovers were feeding by the bank but before I could get the camera on them we were mobbed by locals who flushed them. We went along the lake side to find them but found a pearl spotted owlet being mobbed by a selection of smaller birds. A malachite kingfisher was also located. We carried on a mile or so and stopped at another lake where 7 Egyptian plovers were feeding. We carried on our next stop was at the Wassu stone circles before getting the small ferry to Georgetown and Bird Safari camp.
Monday 23rd January Georgetown and Basse.
A dawn start produced stone partridges around the bungalow, then a walk down the access track produced lesser blue eared glossy starlings, hadada ibis, lizard buzzard, shikra, yellow throated leaflove, northern puffback, yellow throated leaflove, purple glossy starling, as well as many of the common species. After breakfast we headed out towards Basse along the track we encountered four banded sandgrouse and grey woodpeckers. We drove to Basse picking up American golden oriole, the only bird of note. At Basse we could not find the carmine bee eaters despite several hours extensive searching, red throated bee eaters were easy to come by, as were namaqua doves, plain backed pipits cracking Abyssinian rollers, marsh harriers, woodchat shrike, black shouldered kites with white backed vultures over. We had a quick stop at Bansang Quarry for more red throated bee eaters and cinnamon breasted buntings in the quarry. A gabar goshawk was in a nearby tree and several exclamatory paradise whydahs were about. We headed back to Georgetown to meet our boat trip at . The boat trip was just us so we could make any stops we wanted; the trip was designed to visit some hippopotamus feeding grounds west of Georgetown, the fist birds were European turtle doves, bearded barbets, Senegal thicknees and Lizard buzzards drinking from the river. Broad billed rollers filled the sky, several African darters were on the river a large flock of white faced whistling ducks, ospreys, malachite and blue breasted kingfishers, a perched western banded snake eagle showed very well. Two African fish eagles were seen but no hippos on the feeding grounds. The trip back produced similar species as well as oriole warbler, violet turaco and black flycatcher. We had lots of red colobus monkeys in the trees and seven marabou storks flying to roost at dusk. Our trip finished as it darkened and we were dropped off by the boat at Bird Safari Camp. Due to local villagers putting on a show for us we did not visit the track for nightjars as they had been disturbed.
Tuesday 24th January - Georgetown to Tendaba.
Another dawn start (my girlfriend was loving this!) and some birding around the Safari camp produced bruce's green pigeon, oriole warbler, black flycatcher, red shouldered cuckoo shrike, African paradise flycatcher, black rumped waxbills, and European turtle dove amongst the common species. We headed off for the long trip to Tendaba. A colony of Marabou storks was located along the roadside. The first stop was an area of scrub that was in the process of being cleared for rice fields (this is happening all over Gambia).
This produced olivaceous warbler, swamp flycatcher but the target species were long gone. We made a couple of stops for pygmy geese, a northern pintail was the only duck, other stops produced yellow backed weavers, red necked falcon, common moorhen, grey back camaroptera, green backed eremomela, yellow fronted tinkerbird, plain back pipit, grasshopper buzzard, lots of harrier hawks, greater honey guide, cut throat finches, short toed eagles, a flock of white crested helmet shrikes, vieillot's barbet, greater blue eared glossy starling, dark chanting goshawk and ovambo sparrowhawk. As we approached Tendaba we located four Abyssinian ground hornbills. After some food we headed out for nightjars but a good search only produced a bush baby, two genets and a mouse sp.
Wednesday 25th January - Tendaba to the Coast.
A group of four irish birders joined our boat trip to the Kisi and Tunku creeks. Gull billed and royal terns passed us as we crossed the river, pink backed pelicans, ospreys, a couple of goliath herons, several mouse browned sunbirds, montagu's harriers, common wattle eye, northern puff back, African darters, a selection of common waders and a very elusive white backed night heron was eventually found. We stopped and took a walk through the bush here we found swallow tailed bee eater, black wood hoopoes, brown snake eagle, woolly necked stork, yellow backed weavers and yellow crowned bishops, short toed eagle, white shouldered black tit, common redstart, wahlberg's eagle, yellow fronted canary. The star find was a rock python 2-3m long, there were also lots of mudskippers. We also had Gambian sun squirrel and a mouse. Back in the car we started our trip to the coast, with several stops for bateleur and lanner falcon amongst the commoner raptors. Black rumped waxbills, and white crowned robin chat blue spotted wood dove and a close encounter with a monitor lizard. All three monkey species were encountered. We arrived back at the hotel at dusk.
Thursday 26th January – Brufut and Tanji.
Brufut, after agreeing the price of 1500d (or so I thought) Pa Jallow and I headed off in the taxi to Brufut Woods, we quickly picked up pin tailed whydah (not breeding plumage!) and bush petronia on the paths. At the hide by the pool we had lots of bishops, finches, waxbills, manikins, weavers, doves, yellow fronted canaries. We were hoping for something else but nothing. Our walk through the woods continued with most of the common species.
These were snowy crowned robin chat, grey backed eremomela, variable and beautiful sunbirds, little bee eater and fork tailed drongo. The woods changed to scrub with a whinchat, woodchat shrike and two black crowned tchagra's. Back to the woods and we picked up two red winged warblers, yellow fronted tinkerbird and Klaas cuckoo and a group of black necked weavers. Our next stop was Tanji - not the reserve (the guides don't go here anymore but I could not find out why) but the beach, here we had slender billed gulls, grey headed gulls, lesser black backed gulls and two kelp gulls. Osprey, hooded vultures and pied crows were all roosting on the beach, royal sandwich and Caspian terns fishing on the sea with an artic skua in attendance. Waders - grey plovers, ringed plovers, oystercatchers, sanderling and turnstones were all present. We set off for a final stop at the edge of Ghana town, a pied hornbill was on the telegraph wires and we entered the small scrub field, here we had several black headed plovers and eventually two temminck's coursers. We headed back to the hotel and I paid the guide, who then said to pay the driver, the guide was trying it on as £30 (1500d) is adequate for 4 hours guide and taxi, we had a heated discussion and told him to lump it we had agreed a price.
Friday 27nd January – Abuko.
I was up at dawn and into the rice fields behind the hotel for the painted snipe hunt, I flushed several double spurred francolins, and the best birds were African silverbills. No snipe what so ever.
Tijan was back and Abuko was our destination, we arrived and green vervet monkeys were everywhere, we arrived in the study centre hide to glimpse a bush buck disappearing into the trees. We had all the common herons and egrets, several crocodiles and a black crake which was easily spooked by two marsh mongooses which came foraging on the edge of the pool. We headed to the next hide and had good but brief views of two ahanta francolins. We had a couple of violet turacoes, African thrush, white crowned robin chat, fork tailed drongo, lanner falcon, little greenbul, grey backed camaroptera during the walk to the animal hospital / orphanage. Here injured animals are looked after and re released to the wild, those who cannot be released live out their days here, hyenas, baboons, red patas monkeys and a couple of tortoises are the main occupants. Here there is a small hide which you have to pay extra for, we sorted out the fee and entered, here there is a small water hole where weavers, waxbills, manikins, doves and our quarry the western bluebill come to drink and bathe, the bluebill duly obliged as did a pygmy kingfisher. We met some other birders who had seen a Verreaux's eagle owl.We quickly found the bird roosting and continued back through the wood picking up grey headed bristle bill, leaflove, oriole warbler, black necked weavers, shikra, and a brief green turaco. Back at the study centre we had excellent views of pied kingfishers and bushbuck before a pygmy kingfisher put in an appearance. As we left a giant kingfisher was spotted on a branch over the creek along with an African paradise flycatcher, my girlfriend was suffering the after effects of the previous day and we left about instead of going on elsewhere.
We headed over to Senegambia for the cashpoint, and then to relax a little in the Senegambia hotel gardens to relax and do a little easy birding, harrier hawks were roosting in a tree, I startled a couple of monitor lizards, called in a couple of white crowned robin chats, lots of the common species including a variable sunbird were found. I could not locate the lesser honeyguide that had been present. I went back to the rice fields behind my hotel for the painted snipe, similar birds as the morning but no snipe.
I tried to confirm my excursions with Gambia tours that I had provisionally booked via e-mail in the UK however they are totally incompetent and the days of the excursions had changed and they could not be accommodated in our schedule. I rang Tijan who had arranged to guide another couple (as we were supposed to be busy) but they were happy for us to come along.
Saturday 28t h January – Abuko.
Another morning scour of the rice fields for the painted snipe, no luck plenty of francolins, the usual waders and egrets, sacred ibis.
Due to our cancelled excursion, we joined Tijan and two birders from the UK Richard and Betty on their trip to Abuko, black shouldered kite on the way. We started at the Field study centre with all the usual herons and egrets, bush buck also put in an appearance as did the black crake, wattled plover and the usual common species. One ahanta francolin put in a brief appearance, as did a green turaco. A baby crocodile was the reptilian highlight of the day. A shikra perched up as did black kites including one of the yellow billed variety. Pied, and blue breasted kingfishers perched close by giving excellent views, and just as we were moving on the giant kingfishers arrived, we watched them for some time fishing in the pools. The second hide gave us excellent views of violet turacos with a noisy group of plantain eaters drinking and bathing. The walk through the woods again gave up the skulking grey headed bristle bill, and oriole warbler. The Verraux's eagle owl was still present and today we spotted the nest and the female on it as well, we found some woodpecker holes in a dead tree and before long we had excellent views of grey and buff spotted visiting them. We found some bees underneath a platform and both greater and lesser honeyguides were in attendance. There were no mongoose today but a couple of Gambian sun squirrels entertained and the ever present monkeys lounged around in the heat. The small shop near the animal hospital with its cold drinks was a blessing. It was then to the small hide where we had a pair of western bluebills, both wood doves and the usual assortment of bishops, weavers, finches, waxbills, manikins etc. We had a hybrid african flycatcher here which troubled the ID skills of my self for a short while. Back through the woods and we picked up the Yellow bellied apalis, swallow tailed bee eater and a pied hornbill as well as several little greenbuls. Eventually we located the squeaking wattle eyes and they showed well for us. The afternoon was getting on and as we headed past the field centre a noisy group of white crested helmet shrikes were spotted.
I headed to the Senegambia hotel gardens, where the usual species were present, green vervet monkeys had taken the gardens over and we started looking for the black flycatcher that had been reported, nothing doing but a blue breasted kingfisher and green backed eremomela were bonuses.
The evening walk was down the cycle track, via the Jacana pool to Palma Rima hotel, then to the dunes. Nothing new at either site. The area behind the Palma Rima hotel is undergoing development, at the unfinished hotel, were francolins, silverbills and fire finches. I continued into the dunes sat and waited shortly after the first nightjar started flying, I eventually saw two at close range both long tailed nightjars. I walked down the beach back to the hotel.
Sunday 29th January – Pirang.
My ritual dawn visit to the rice fields for the painted snipe drew a blank but I flushed three African spoonbills. I met one of the local guides and pointed him in the right direction.
Pirang was our destination again sharing with Richard and Betty, today the Black crowned cranes were only a slim possibility as they have become much harder recently. We stopped nearby at Mandinaba rice fields, the nearest place to the coast for hadada ibis, when we arrived the local children whom most are training as birdguides, said that there was a baby barn owl by a nearby tree, we investigated (they need to brush up on their ID skills) and a baby (nearly fledged) white faced scops owl was there. We could see the nest very high up in the tree, but no chance of putting it back.
We took the baby owl to the van and stowed it away safely and would take it to Abuko animal hopsital on the way back. We continued round the rice fields with the amateur guides in tow. Raptors were good here palm nut vulture, Wahlbergs eagle, yellow billed black kites, harrier hawk, hooded vulture. We had excellent views of fine spotted woodpeckers and oxpeckers as well as black flycatcher. We made a quick stop in Pirang village, where barn owls roost in the large Kapok tree, the owl was found a pellets collected for analysis at Abuko (they are researching diet of barn owls).
We left and headed to the Pirang Shrimp farm, here we paid the entry (there is a proper birding setup with a small viewpoint / hide and the guides here will open the locked gate to let you in. We had quail finches by this gate along with crested larks a couple of warblers, subalpine and melodious. We went into the farm and picked a single yellow billed stork, three spur winged geese and three African spoonbills. No sign of the cranes and we were informed that sightings had become very infrequent. Several mosque swallows were flying overhead; these are enormous almost small falcon size. The usual plovers and waders were present and several pink backed pelicans but not much else. We left for some wetland about a half a mile away into the mangroves (marked in book Page 65 map point E)  where the cranes can sometimes be seen but no luck, there were no white throated bee eaters here either. We did get good views of a long crested eagle. Our next stop was down the Faraba Banta Bush track.
We checked on the owl and gave it water. We made several stops along the track for brown snake eagle, gabar goshawk, grasshopper buzzard, we stopped in one area for a striped kingfisher and the whole area was alive, several violet backed sunbirds, brown backed woodpeckers, black winged bishops, scarlet chested and beautiful sunbirds. We headed back to the Hotel via Abuko, where the owl was well received and was taken into care.
I returned to the rice fields after visiting the sewage pools little bee eater of note but still no snipe.
Monday 30th January – Touristy and Bijilo.
Yet another hunt for the painted snipe, which were being seen almost daily in the area I had been looking, I met a dutch birder at the bridge who had seen them and it was only his third day. I found the african spoonbills again but no snipe. The morning we went camel riding at Tanji Beach, it was good fun, Kelp gulls the only birds of note. The afternoon was a walk around Bijilo with Richard (an English birder we shared the Abuko trip with) we had excellent views of grey woodpecker, green wood hoopoe, lesser honeyguide, little and swallow tailed bee eaters as well as the monkeys that make the park popular with tourists. There were lots of birds on the ornithological trail but very little in the other areas of the forest, no sign of the white throated bee eaters. Yet another look for painted snipe before I met Morro for nightjar watching, he spotted a rufus cisticola on the cycle track, zitting was more probable from what I saw. We went to the same area as I saw nightjars before, but with the big torch we were able to get better views of them, there were up to 6 long tailed nightjars, but despite extensive searching we could not find any standard winged nightjars. On the cycle track there were lots of fireflies.
Tuesday 31st January - Touristy, Senegal.
Yet another early start for our two day trip to Senegal, we waited outside our hotel as the bus to pick us up passed by without stopping. After some heated phone calls to Gambia experience, and eventually getting to speak to someone who had some idea about what was going on another bus came and picked us up and we met the rest of the group at the ferry terminal. We travelled as foot passengers which made things easier (this is far easier that taking a vehicle across). Caspian, Lesser crested, royal and gull billed terns were present along with grey headed, lesser black backed, black headed and kelp gulls. We learned why we were not picked up as our hotel tour rep had said to the excursion company that there were no people going from our hotel - prat, we had booked at the Gambia experience office and not through him (as his visits to the hotel at 11.15am every day were not very convenient.) We joined the 4x4 ex army lorry for our trip along the terrible road to Senegal, no birds of note. The border crossing went smoothly as was the road in Senegal a welcome change. We headed to a massive kapok tree several hundred years old, here was a wetland with several heron species, pied kingfisher and several oxpeckers on the local cattle, namaqua doves and lots of common species were present. We next visited a local village then to our hotel for Lunch. Followed by a boat trip to an island kingdom. There were pink backed pelicans on the hotel dock, African fish eagles, osprey, white faced plovers among the common waders. On the island beautiful sunbirds, and two white rumped seedeaters distracted my attention from the tour. The return trip produced the same birds. The hotel had a bird table and although only village and little weavers, common bulbuls, babblers, some of the smaller finches a selection of doves were visiting and I could get close to the birds. I watched for some time and two African collared doves first of the trip came to feed.
Wednesday 1st February - Salome NP, Bijilo.
The following day was the trip to the Reserve de Fathala, here native animals have been re introduced into a game park. Most of Gambia and Senegal's large mammals have been hunted to extinction so here a selection of antelope, warthog, giraffe all native to the area live now live (these are wild animals, this is not a zoo), there is a good selection of smaller mammals all three monkeys and lots of reptiles and some birds. The only non native animals are white rhino's part of the global preservation of the species. The birds of note as we toured the park in the truck were blue cheeked bee eaters and hoopoe.
Back to the hotel for lunch then the trip back to the ferry. The crossing produced all the previous species, plus storm petrel and several artic skuas.
Back at the hotel we quickly changed and went to Bijilo forest, white throated bee eaters were found quite quickly about 15 or so, just the common species so I left and went back to my painted snipe quest in the rice fields yet again. Still blank and with only a couple of days to go I was getting concerned.
Thursday 2nd February – Touristy, Bakau.
African spoonbills were yet again present during my painted snipe quest or was it now becoming an obsession! I had all my usual companions in the rice fields, the sacred ibis, francolins, egrets and herons, weavers but alas no snipe. The morning was a guided tour of Banjul, Serekunda and Bakau visiting all the major tourist sites, including the brewery and the sacred crocodile pond. The afternoon I visited the war cemetery to pay my respects, then to the botanical gardens and the Bakau area. The botanical gardens were full of sunbirds, splendid, variable, collared, scarlet chested and copper. It also held the same common species as elsewhere. I was looking for chestnut breasted starlings but my walk only produced broad billed rollers, fork tailed drongo and shikra of note. I passed the back of the golf course to Kotu bridge. The snipe have been see that afternoon and some people were going along with some guides for a look, I tagged along but after a long search we drew blank. I did a count and has 194 new species (not including subspecies) so far and a total of 261 species seen on the trip so far, I arranged a trip to Yundum for the next morning (the flight back is in the afternoon) the bus leaves the hotel at 12:30 so I had to be back by 11 to get everything sorted. This I hoped would help me get to 200 new species for the trip.
Friday 3rd February – Yundum.
I was met at for the 20 min drive to Yundum by 'Best Boy' we had black shouldered kite on the way. The walk into the scrub, and enclosures gave all the common birds a northern wheatear and some little weavers were found, several sunbirds scarlet chested, pygmy, beautiful and variable as well as several black flycatchers. Asinging cisticola (194) followed by a rufus cisticola (195) then a cardinal woodpecker (196) things were looking up then nothing for ages but whinchat, striped kingfisher. Time was fast moving on and no sign of the bronze winger courser but a whistling (197) then winding cisticolas (198) were all found. Just waiting for the coursers but no luck, then cut throat finches followed then by Plaintive cisticola (199). then a pied winged swallow came close and flew round for 10 mins giving great views (200). It was time to leave 10:20 se we headed back, discussion in the car came to the painted snipe and the guide asked how much time I had, about 15-20 mins at a push. We drove to the rice fields and headed straight in, here the guide found a painted snipe but it disappeared before I could see it into the mangroves, we looked round the other side I caught a glimpse but could not be sure, there were lots of weavers bathing and drinking. Than they all flushed hundreds of weavers. The guide saw the snipe and we headed to a wet field two snipe flew up one back into the mangroves the other into the next rice field where I watched it out in the open for a minute or so before it joined the other one back in the mangroves. Finally I had the painted snipe(201). I went back to the hotel and got sorted for the journey home. With nothing of else of note it was time to leave.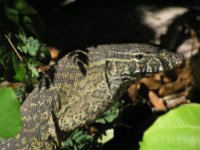 Nile Monitor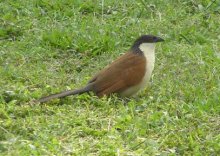 Senegal Coucal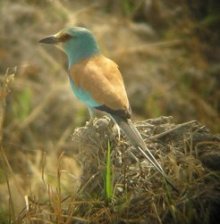 Abyssinian Roller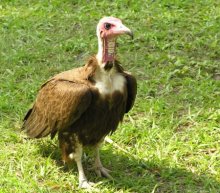 Hooded Vulture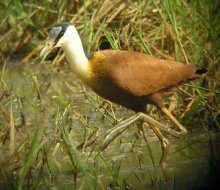 African Jacana
White Faced Whistling Duck
Cordon Bleu
Little Bee Eater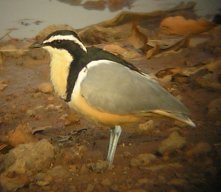 Egyptian Plover
African Fish Eagle
Red Throated Bee Eater
Abyssinian Ground Hornbill
Swamp Flycatcher
Black Egret
Marabou Storks
Rüppells Griffon Vulture
Western Banded Snake Eagle.
Four Banded Sandgrouse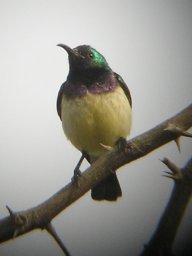 Variable Sunbird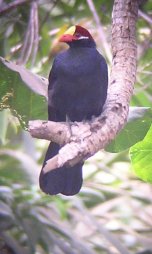 Violet Turaco
Giant Kingfisher
Bushbuck
Western Bluebill
Senegal Thicknee
Pink Backed Pelican
Marsh Mongoose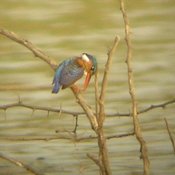 Malachite Kingfisher
White Rhino
White Crowned Robin Chat
White faced Scops Owl
Striated Heron
Giraffe
Blue Bellied Roller
Blue Breasted Kingfisher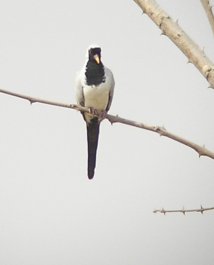 Namaqua Dove
Green Vervet Monkey
Yellow Crowned Gonolek
Piapiac
Yellow Billed Shrike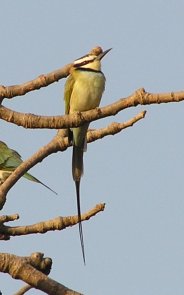 White Throated Bee-eater
Red Chested Swallow
Yellow Billed Oxpecker
Verraux's Eagle Owl
Village Indigobird
Wattled Plover
Wassu Stone Circle
Pearl Spotted Owlet