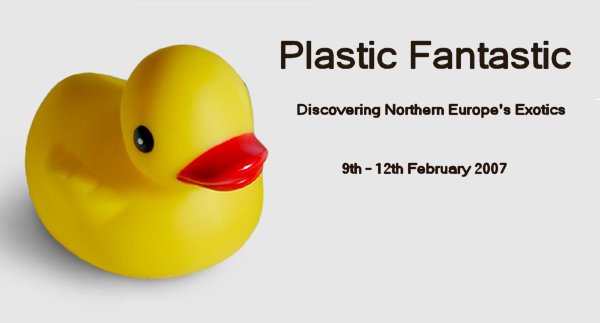 Northern Europe has several unusual exotic introductions (aka plastics), this was a trip
to see some of them as well as some real birds (I haven't gone totally mad).
Targets were Sacred Ibis, Reeve's Pheasant, Bobwhite, Grey headed Woodpecker,
Black Woodpecker, Red Billed Leiothrix, Rhea, Carribean Flamingo, Chilean Flamingo,
Lesser Whitefronted Goose, House Crow.
9th February - France

After the le shuttle we headed south to Brittany, the long drive was broken up by a few sleep stops and we arrived late morning, to beautiful sunshine and warm weather although E35 lighter due to motorway tolls. As we headed towards Le Croisic our target was in sight, eight sacred ibis feeding in a damp field with gulls. We then headed to the town itself and went to the beach – well had to in that weather. All the usual shore birds were present with several black necked grebes off shore of note, we headed to the lagoons which held large numbers of little egrets and a rather nice marsh harrier but not much else. We returned to the ibis for a while before heading north. A white stork was of note on the journey. Our destination was the farmland area around Puiseaux, I had contacted a local hunter to get some information on where they hunt Bobwhite, the hunters was a little vague but gave the general area. This was where we headed, we drove around and around the farmland of the area, through small villages and eventually just as we were to give up a bobwhite was flushed from the verge by the car, just south of Gironville. We headed to our hotel (Formula 1) near Nemours.

<![if !vml]><![endif]>

Sacred Ibis

<![if !vml]><![endif]>

Sacred Ibis

10th February – France Again

We were at the site at dawn, but could not find the correct track so we searched the woods from the all tracks without success; it was overcast and chilly but did not rain good conditions for birdwatching. We gave up and headed to (A birdwatching guide to France Crozier - Paris Region Area 6 Site 1) as we arrived a grey headed woodpecker flew across the road. I lept out as it flew away. I had a look for it without success but did find a middle spotted woodpecker. We headed down the road several middle spotted woodpeckers were with tit flocks, bullfinch, nuthatches and great spotted

woodpeckers also seen. We reached the end of the road and on the way back heard a loud call, I tracked the source down and a black woodpecker was located although not particularly close. We then after a bit of lunch headed to Freemainville north of Paris, our route skirted Paris and we could even see the Eiffel tower. We found the site easily and headed into the woods by the pond, a few marsh tits with the tit flock and several short toed treecreepers. We crossed to the other side of the track and headed into the woods. A short way in a red billed leiothrix was spotted chasing a robin they were easily located with their call and at least 5 individuals were seen. We had a long drive so started off as the light faded During a stop I noticed a tick on my arm no doubt from the woods.

<![if !vml]><![endif]>

Red Billed Leiothrix

<![if !vml]><![endif]>

Red Billed Leiothrix

11th February – Germany

A long journey broken with a long stop for sleep we awoke to lots of snow and sub zero temperatures. The roads were very dodgy but we made it to our destination of Schattin just south of Lubeck. We had a drive round willow tits and fieldfares were abundant we located a rough legged buzzard one of many seen during the day but we could not locate our target which was surprising as they are so large. The Nandu as they are locally known are Rheas which have escaped from a local farm and now have a population of approx. 100. They live in the farmland around the villages of Schattin and Utecht. We visited the Wald Hotel in Schattin where the local expert filled me in on them, but today with the snow he said they would sit tight and not feed and we would be very lucky to find them but he gave us the best recent areas. We searched all the areas, following all the small lanes which was tough in the snow and up one of these lanes at a dead end while turning round the frozen crust of the earth gave way and we were stuck in the mud. A phone call to the AA and help was on its way although the location was unknown so I agreed to meet in the village, a Northern long tailed titwe seen on the way. The German AA equivalent had a little chuckle on finding our predicament but quickly towed us out and were on our way again. We searched everywhere but no luck, we saw some goosander on the river and a distant flock of geese were inspected and they were common cranes two groups of about a dozen each coming in to roost, we had no luck with the Nandu, the weather had beaten us and we headed west to warmer climes, they will have to keep for another day.

<![if !vml]><![endif]>

Red billed Leiothrix Map

<![if !vml]><![endif]>

Me in the Snow

<![if !vml]><![endif]>

Unusual Sign

12th February – Netherlands

We stayed in Assen, the Netherlands in a quite posh hotel, which was part of the reason for setting off late as it was well comfy. We had a traffic jam in the worsening weather, heavy rain and high winds and eventually made our first destination Elburg where both Chilean and Caribbean flamingo's were wintering. 12 and 1 respectively. This is not the only site, they break up into small groups during the winter before returning to the Dutch/German border to breed they number approx 70-100 Chilean and a few Caribbean, all originally from escaped stock but now breeding well. The weather worsened not allowing many photo's to be taken as was the case all day, as even standing up was difficult, we took a look round and found a great white egret. The next stop was Petten Polder on the west side where several lesser whitefronted geese had been seen regularly. Eventually they were seen but I had to hold the scope to stop it from blowing over, the girlfriend only leaving the car when I found 3 lesser whitefronted geese in the whitefronts, barnacles and greylags. Lots of widgeon and curlew about as well. We headed to our next destination at the Hook of Holland, Egyptian geese noted on the way. We arrived and parked, two local birdwatchers were on hand sheltering from the weather, with that old line should have been here 5 mins ago, they were right in front of us. Eventually I did get a flight view of a house crow, one of a small population that live by the railway station. They came on a boat from the far east, only numbering 20 or so. I did find one on a boat later on in the fading light that gave better views and that was it time to head for home.

<![if !vml]><![endif]>

Flamingo's

<![if !vml]><![endif]>

Flamingo's
Birds - 99
| | | |
| --- | --- | --- |
| Black Necked Grebe | Great Crested Grebe | Cormorant |
| Little Egret | Grey Heron | Great White Egret |
| White Stork | Chilean Flamingo | Caribbean Flamingo |
| Mute Swan | White-fronted Goose | Lesser White-fronted Goose |
| Greylag Goose | Barnacle Goose | Canada Goose |
| Egyptian Goose | Brent Goose | Mallard |
| Shelduck | Gadwall | Wigeon |
| Tufted Duck | Goldeneye | Goosander |
| Red Breasted merganser | Marsh Harrier | Rough Legged Buzzard |
| Buzzard | Kestrel | Bobwhite |
| Common Pheasant | Moorhen | Coot |
| Common Crane | Oystercatcher | Ringed Plover |
| Grey Plover | Lapwing | Dunlin |
| Turnstone | Redshank | Curlew |
| Black Headed Gull | Common Gull | Herring Gull |
| Yellow Legged Gull | Greater Black backed gull | Feral Pigeon |
| Stock Dove | Woodpigeon | Collared Dove |
| Black Woodpecker | Great spotted woodpecker | Middle spotted woodpecker |
| Grey Headed Woodpecker | Skylark | Rock Pipit |
| Meadow Pipit | White Wagtail | Wren |
| Dunnock | Robin | Red Billed Leothrix |
| Stonechat | Song Thrush | Redwing |
| Mistle Thrush | Fieldfare | Blackbird |
| Goldcrest | Great tit | Long tailed tit |
| Long tailed tit (??) | Coal tit | Blue Tit |
| Willow Tit | Marsh Tit | Nuthatch |
| Short toed Treecreeper | Magpie | Jay |
| Carrion Crow | Rook | House Crow |
| Jackdaw | Raven | Starling |
| House Sparrow | Tree Sparrow | Chaffinch |
| Lesser redpoll | Siskin | Goldfinch |
| Greenfinch | Bullfinch | Hawfinch |
| Yellowhammer | Sacred Ibis | Red Legged Partridge |
Mammals - 5
| | | |
| --- | --- | --- |
| Rabbit | Hare | Muskrat (Dead) |
| Roe Deer | Fallow Deer | |
Literature
French Maps - OK
IGN 2221 O, 221 E and 2417 OT 1:25,000 ISBN 3 282112221130, 3 282112121249, 3 282112417045
German Map – Which was rubbish
BDR Number 3 1:100,000 no ISBN no
Dutch Maps – Excellent
ANWB 15 and 10 1:50,000 ISBN 9 789018018986 and 9 789018021276
A Birdwatching guide to France (North of the Loire) J. Crozier ISBN 1 900159767
Details of the Sacred Ibis, Reeve's pheasant and Red billed Leothrix sites were from Rich Bonsers trip report (here)
Return to Nandu
We made a quick return to Germany to find the Rhea's in late March.
1st April
All day was rather touristy, but a selection of gulls and ducks inc goosanders were present in town but little else. Late afternoon we took a drive back to the Rhea area but nothing but deer before our late flight home.
31st March
d A rather busy week at work prevented me from any birding at all, and this weekend was booked up with a trip to Lubeck, Germany part touristy but also to find the Rheas or Nandu as they are locally know present in the area which we missed a couple of months earlier in our Europe (plastic) Trip Report. within 10 mins of leaving the airport we were in the area and we spent much of the day searching, without success. We did see several buzzards, goshaw and a red kite. A small pond held a pair of goosanders and a white wagtail. A trip to the local town produced a selection of food for lunch. A wider search produced lots of the commoner birds, a large flock of redwings and fieldfares. Some helpful locals had seen a flock of 60 or so in the past few days and showed us where but to no avail. I took a walk up a track, where I met another birdwatcher who was there for a breeding bird survey of some rare birds, he asked me not to disclose its location or the species. We walked up the track and a rhea was in a rape field. The birdwatcher continued to his destination and the rhea was watched in the field. I returned to the car for the camera, girlfirend etc. and went back to my vantage point, the rhea had gone, but continuing down the track, its head could be seen above the rape. It was easily hidded even in the foot or so high rape. Our vantagepoint was a deer stalkers platform where we had good views of the rhea and several pairs of common cranes displaying an excellent sight, as was a close passing hen harrier. After having our fill we headed to Lubeck for the evening, a bat sp was of note.

Rhea

Common Crane