Introduction.
Saturday 6th November
All the idiots were on the road but we still made good time to Heysham and managed a little sleep on the overnight ferry crossing to Douglas. A quick 40 winks before a sausage sandwich and cup of tea and we were ready for the day. We drove up the east coast stopping at a few touristy things, but quickly racking up the common species, a grey wagtail and several hooded crows of note. A quick sandwich for lunch they we headed to the point of Ayre for some sea watching. A large raft of eider a few great crested grebes and a couple of red throated divers the pick. We then stopped at several of the coastal watch points down the west side of the island adding stonechat and a large flock of linnets. At the final stop we had a good number of waders mostly curlew and oystercatchers but a couple of dunlin and a flock of golden plover and a few whimbrel. We headed to the Ballaugh Curraghs for the main event, as we prepared to head into the Curraghs (a Ramsar wetland with for its unique willow swamp and associated plants) a large mixed tit flock passed through. The reserve was very wet even on the main paths following a week of constant rain (as a holidaymaker we bumped into put it). We wandered round trying to get our bearings before getting our first sighting of a red necked wallaby. I started to stalk it down and was getting into position to get some photos when 4 garishly dressed and noisy walkers came round the corner and the wallaby was off in a couple of bounds, a few choice words sprung to mind but we exchanged pleasantries never the less. We continued our walk round along different paths to the walkers route and had several other sightings but they were brief. With darkness falling we headed back to the car, a wallaby was on the track ahead of us and we froze, too dark for photos we filmed the wallaby feeding for a couple of minutes using the nightvision capability of the videorecorder (its great - get one) before it headed off into the undergrowth. As we carried on back to the car a polecat crossed the path (they are actually feral ferrets but the locals refer to them as polecats) and we headed back to Douglas to watch the fireworks and eat chips in the rain.
Sunday 7th November
After a hearty breakfast we headed to the north of the island again a mountain hare was seen as we crossed the mountains. At our first stop 6 whooper swans flew over us heading east. We did a couple of touristy things, and local award winning ice cream was too good an opportunity to miss despite the cold. There were plenty of common birds about on our travels including large flocks of fieldfares with a few redwings mixed in and we saw a brown rat under a birdtable. We headed back to the Curraghs early afternoon for another go at the wallabies, there was plenty of life with several rabbits, a grey heron and a large flock of lesser redpolls I studied them for a while and there was at least one mealy redpoll possibly two with them. Eventually after some searching I found a wallaby which was sitting in the long grass and scrub allowing for a few photos but it was a little obscured. Back at the car an organised tour was heading to see the wallabies so we headed off to Close Sartfield for the harrier roost. Here is an open topped tower hide where you can see one of Europe's largest hen harrier roosts but not this evening. The weather was not ideal but one male hen harrier was a far less than expected. But we had two peregrine falcons, several large skeins of greylag geese heading west and a massive mixed corvid roost to keep us going. As the heavens opened we made it back to the car and back to Peel for some food which did include chips. A brown rat crossed the road in front of us as we made it back to Douglas just before the massive storm hit.
Monday 8th November
After another hearty breakfast we were off again, this time in search of choughs which are plentiful on the island somewhere! We headed south today stopping at several bays and beaches but only getting out of the car briefly as the storm was still going well. We added grey plover and rock pipit to the list and finally a chough on the beach but distant. More bays and a few feral goats on one of the hillsides one bay held a pair of red breasted merganser. A few hauled out grey seals at the Calf of Man before sheltering on one of the . Finally at Peel I got some record shots of choughs on the playing fields. The weather did not improve so we did some touristy things before braving the ferry home, which fortunately designed to run in choppy water as it was more of a stabiliser with ship than a ship with stabilisers, a good little break despite the weather.
Birds 67
| | | |
| --- | --- | --- |
| Mute Swan | Whooper Swan | Pink Footed Goose |
| Greylag Goose | Teal | Wigeon |
| Red Breasted Merganser | Eider | Mallard |
| Great crested Grebe | Pheasant | Red Throated Diver |
| Cormorant | Shag | Grey Heron |
| Hen Harrier | Peregrine Falcon | Dunlin |
| Water Rail | Moorhen | Lapwing |
| Oystercatcher | Whimbrel | Curlew |
| Redshank | Golden Plover | Grey Plover |
| Black Headed Gull | Great Black Backed Gull | Common Gull |
| Lesser Black Backed Gull | Herring Gull | Razorbill |
| Black Guillemot | Woodpigeon | Feral Pigeon |
| Rock Pipit | Meadow Pipit | Wren |
| Grey Wagtail | Pied Wagtail | Stonechat |
| Song thrush | Mistle Thrush | Robin |
| Blackbird | Redwing | Fieldfare |
| Blue Tit | Great Tit | Long Tailed Tit |
| Goldcrest | Lesser Redpoll | Mealy Redpoll |
| Magpie | Jackdaw | Raven |
| Carrion Crow | Hooded Crow | Starling |
| House Sparrow | Chaffinch | Greenfinch |
| Goldfinch | Siskin | Linnet |
| Pale Bellied Brent Goose | | |
Mammals 7
| | | |
| --- | --- | --- |
| Feral Goat | Grey Seal | Brown rat |
| Rabbit | Polecat | Red Necked Wallaby |
| Mountain Hare | | |


Wallaby Video


Brown Rat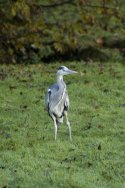 Grey Heron


Rabbit


Red Necked Wallaby

Hooded Crow


Chough


Pale Bellied Brent Geese


Moorhen


Grey Seals


Red Necked Wallaby